MLB Rule V: 2020 Prospect List
With the deadline passing to add prospects to the 40-man roster, an accessible list of the top prospects could be of value. Baseball America has a list of the top draft picks (first three rounds with a detailed breakdown of former first round picks) that went unprotected. Unfortunately, though, this list doesn't include the players most likely to be taken, such as Baltimore Orioles prospect Zach Pop. Pop, a right-handed reliever coming off Tommy John, is a 40 prospect by FanGraphs who has a 70 sinker and 55 slider per the site.
Knowing which types of prospects are available is important. Using FanGraphs The Board for prospects with at least a 35 future value, I calculated rule five eligibility, cross-referenced Baseball America's protected list, eliminated minor league free agents, and used the Roster Resource feature on FanGraphs to verify players not on the 40-man/rule five status. Any omission is my error, but please let the website know in the comments below if a prospect is not included.
Additionally, the below rankings include the trade value calculated by Craig Edwards and the Theo Epstein school of grading prospects as described in Homegrown by Alex Speier. Below is a table describing the prospect valuation methods: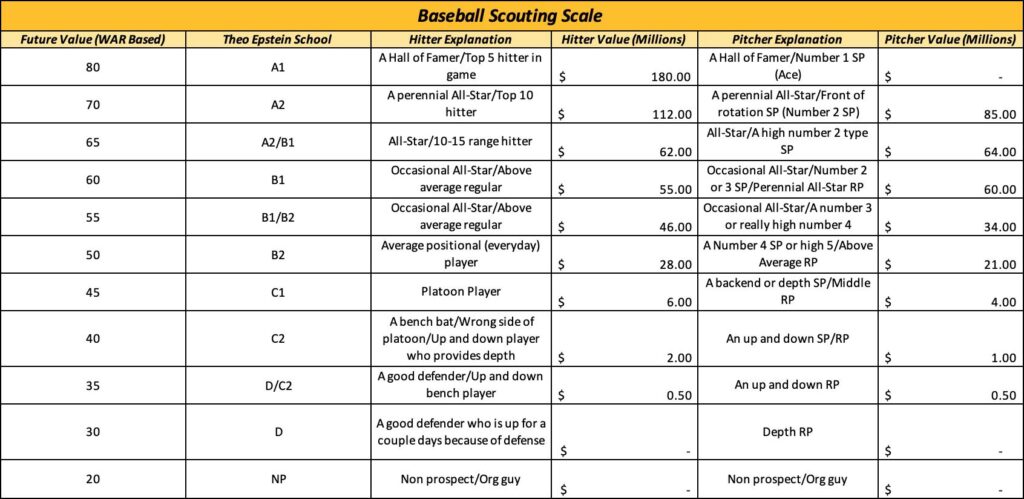 The following is the ranking of the 141 prospects with a 35 or better prospect grade:
| Name | Organization | Org Rank | Position | Bat | Throw | FV | Theo | Value |
| --- | --- | --- | --- | --- | --- | --- | --- | --- |
| Wenceel Perez | DET | 9 | SS | S | R | 45 | C1 | $6.00 |
| Luis Oviedo | CLE | 11 | RHP | R | R | 45 | C1 | $4.00 |
| Jhon Torres | STL | 9 | RF | R | R | 40+ | C2 | $4.00 |
| Jose Miranda | MIN | 10 | 3B | R | R | 40+ | C2 | $4.00 |
| Wander Javier | MIN | 12 | SS | R | R | 40+ | C2 | $4.00 |
| Seuly Matias | KCR | 13 | RF | R | R | 40+ | C2 | $4.00 |
| Tirso Ornelas | SDP | 15 | LF | L | R | 40+ | C2 | $4.00 |
| Oswaldo Cabrera | NYY | 16 | 2B | S | R | 40+ | C2 | $4.00 |
| Abiezel Ramirez | TBR | 21 | SS | S | R | 40+ | C2 | $4.00 |
| Jose Alberto Rivera | HOU | 9 | RHP | R | R | 40+ | C2 | $3.00 |
| Riley Pint | COL | 10 | RHP | R | R | 40+ | C2 | $3.00 |
| Angel Macuare | HOU | 12 | RHP | R | R | 40+ | C2 | $3.00 |
| Jose Soriano | LAA | 14 | RHP | R | R | 40+ | C2 | $3.00 |
| Santiago Florez | PIT | 20 | RHP | R | R | 40+ | C2 | $3.00 |
| Shervyen Newton | NYM | 12 | SS | S | R | 40 | C2 | $2.00 |
| Israel Pineda | WSN | 15 | C | R | R | 40 | C2 | $2.00 |
| Kevin Smith | TOR | 18 | SS | R | R | 40 | C2 | $2.00 |
| TJ Friedl | CIN | 18 | CF | L | L | 40 | C2 | $2.00 |
| Jhailyn Ortiz | PHI | 18 | RF | R | R | 40 | C2 | $2.00 |
| Luis Santana | HOU | 18 | 2B | R | R | 40 | C2 | $2.00 |
| Packy Naughton | LAA | 19 | LHP | R | L | 40 | C2 | $2.00 |
| Jordan Diaz | OAK | 19 | 3B | R | R | 40 | C2 | $2.00 |
| Rodolfo Duran | PHI | 20 | C | R | R | 40 | C2 | $2.00 |
| Trent Giambrone | CHC | 21 | 2B | R | R | 40 | C2 | $2.00 |
| Leonardo Rivas | LAA | 21 | 2B | S | R | 40 | C2 | $2.00 |
| Payton Henry | MIL | 21 | C | R | R | 40 | C2 | $2.00 |
| Orlando Martinez | LAA | 22 | LF | L | L | 40 | C2 | $2.00 |
| Juan Yepez | STL | 22 | 1B | R | R | 40 | C2 | $2.00 |
| Esteury Ruiz | SDP | 22 | 2B | R | R | 40 | C2 | $2.00 |
| Maikel Garcia | KCR | 23 | SS | R | R | 40 | C2 | $2.00 |
| Moises Gomez | TBR | 23 | RF | R | R | 40 | C2 | $2.00 |
| Ronnie Dawson | HOU | 23 | CF | L | R | 40 | C2 | $2.00 |
| Aramis Ademan | CHC | 24 | SS | L | R | 40 | C2 | $2.00 |
| Ricardo Genoves | SFG | 24 | C | R | R | 40 | C2 | $2.00 |
| Omar Estevez | LAD | 24 | 2B | R | R | 40 | C2 | $2.00 |
| Will Toffey | NYM | 25 | 3B | L | R | 40 | C2 | $2.00 |
| Eguy Rosario | SDP | 26 | 2B | R | R | 40 | C2 | $2.00 |
| Cody Thomas | LAD | 26 | RF | L | R | 40 | C2 | $2.00 |
| Yonny Hernandez | TEX | 26 | SS | S | R | 40 | C2 | $2.00 |
| Jordy Barley | SDP | 27 | SS | R | R | 40 | C2 | $2.00 |
| Akil Baddoo | MIN | 27 | CF | L | L | 40 | C2 | $2.00 |
| Tristan Gray | TBR | 32 | 1B | L | R | 40 | C2 | $2.00 |
| Lolo Sanchez | PIT | 32 | CF | R | R | 40 | C2 | $2.00 |
| Pedro Gonzalez | TEX | 32 | CF | R | R | 40 | C2 | $2.00 |
| Jovani Moran | MIN | 33 | LHP | L | L | 40 | C2 | $2.00 |
| Jose Fermin | CLE | 33 | SS | R | R | 40 | C2 | $2.00 |
| Brewer Hicklen | KCR | 34 | LF | R | R | 40 | C2 | $2.00 |
| Drew Ellis | ARI | 35 | 3B | R | R | 40 | C2 | $2.00 |
| Brian Miller | MIA | 35 | CF | L | R | 40 | C2 | $2.00 |
| Resly Linares | TBR | 36 | LHP | L | L | 40 | C2 | $2.00 |
| Will Benson | CLE | 40 | RF | L | L | 40 | C2 | $2.00 |
| Diosbel Arias | TEX | 41 | SS | R | R | 40 | C2 | $2.00 |
| Parker Dunshee | OAK | 14 | RHP | R | R | 40 | C2 | $1.00 |
| Brian Howard | OAK | 15 | RHP | R | R | 40 | C2 | $1.00 |
| Zack Brown | MIL | 15 | RHP | R | R | 40 | C2 | $1.00 |
| Prelander Berroa | SFG | 17 | RHP | R | R | 40 | C2 | $1.00 |
| Zach Pop | BAL | 20 | RHP | R | R | 40 | C2 | $1.00 |
| Luis Rijo | MIN | 20 | RHP | R | R | 40 | C2 | $1.00 |
| Elvis Alvarado | SEA | 21 | RHP | R | R | 40 | C2 | $1.00 |
| Travis MacGregor | PIT | 21 | RHP | R | R | 40 | C2 | $1.00 |
| Wilkel Hernandez | DET | 23 | RHP | R | R | 40 | C2 | $1.00 |
| Josh Roberson | MIA | 27 | RHP | R | R | 40 | C2 | $1.00 |
| Glenn Otto | NYY | 31 | RHP | R | R | 40 | C2 | $1.00 |
| Yerry De Los Santos | PIT | 33 | RHP | R | R | 40 | C2 | $1.00 |
| Joel Peguero | TBR | 34 | RHP | R | R | 40 | C2 | $1.00 |
| Ismael Aquino | KCR | 37 | RHP | R | R | 40 | C2 | $1.00 |
| Kelvin Gonzalez | TEX | 37 | RHP | R | R | 40 | C2 | $1.00 |
| Trevor Stephan | NYY | 38 | RHP | R | R | 40 | C2 | $1.00 |
| Alex Speas | TEX | 38 | RHP | R | R | 40 | C2 | $1.00 |
| Enyel De Los Santos | PHI | 43 | RHP | R | R | 35 | D/C2 | $0.50 |
| Buddy Reed | OAK | 25 | CF | S | R | 35+ | D/C2 | $0.50 |
| Lenyn Sosa | CHW | 27 | SS | R | R | 35+ | D/C2 | $0.50 |
| Miguel Medrano | CIN | 27 | RHP | R | R | 35+ | D/C2 | $0.50 |
| Desmond Lindsay | NYM | 28 | CF | R | R | 35+ | D/C2 | $0.50 |
| Julian Garcia | PHI | 29 | RHP | R | R | 35+ | D/C2 | $0.50 |
| Curtis Taylor | TOR | 30 | RHP | R | R | 35+ | D/C2 | $0.50 |
| Jacob Heatherly | CIN | 30 | LHP | L | L | 35+ | D/C2 | $0.50 |
| Eric Marinez | OAK | 30 | RHP | S | R | 35+ | D/C2 | $0.50 |
| Michel Otanez | NYM | 31 | RHP | R | R | 35+ | D/C2 | $0.50 |
| Oliver Ortega | LAA | 31 | RHP | R | R | 35+ | D/C2 | $0.50 |
| Lazaro Armenteros | OAK | 31 | LF | R | R | 35+ | D/C2 | $0.50 |
| Zach Warren | PHI | 31 | LHP | L | L | 35+ | D/C2 | $0.50 |
| Mariel Bautista | CIN | 32 | CF | R | R | 35+ | D/C2 | $0.50 |
| Roither Hernandez | TOR | 33 | RHP | R | R | 35+ | D/C2 | $0.50 |
| Alec Hansen | CHW | 33 | RHP | R | R | 35+ | D/C2 | $0.50 |
| Dakota Mekkes | CHC | 34 | RHP | R | R | 35+ | D/C2 | $0.50 |
| Chavez Young | TOR | 34 | CF | S | R | 35+ | D/C2 | $0.50 |
| Jose Mora | OAK | 34 | RHP | R | R | 35+ | D/C2 | $0.50 |
| Connor Jones | STL | 34 | RHP | R | R | 35+ | D/C2 | $0.50 |
| Brett de Geus | LAD | 34 | RHP | R | R | 35+ | D/C2 | $0.50 |
| Ignacio Feliz | SDP | 35 | RHP | R | R | 35+ | D/C2 | $0.50 |
| Jordan Sheffield | LAD | 35 | RHP | R | R | 35+ | D/C2 | $0.50 |
| Elvin Rodriguez | DET | 35 | RHP | R | R | 35+ | D/C2 | $0.50 |
| Juan Pablo Lopez | HOU | 36 | LHP | L | L | 35+ | D/C2 | $0.50 |
| Naswell Paulino | TOR | 36 | LHP | L | L | 35+ | D/C2 | $0.50 |
| Raymond Kerr | SEA | 36 | LHP | L | L | 35+ | D/C2 | $0.50 |
| Debby Santana | CIN | 36 | 3B | R | R | 35+ | D/C2 | $0.50 |
| Rodard Avelino | STL | 36 | RHP | R | R | 35+ | D/C2 | $0.50 |
| Danny Lantigua | CIN | 37 | RF | S | R | 35+ | D/C2 | $0.50 |
| Victor Santos | PHI | 37 | RHP | R | R | 35+ | D/C2 | $0.50 |
| Marshall Kasowski | LAD | 37 | RHP | R | R | 35+ | D/C2 | $0.50 |
| Jair Camargo | MIN | 38 | C | R | R | 35+ | D/C2 | $0.50 |
| Bryan De La Cruz | HOU | 38 | RF | R | R | 35+ | D/C2 | $0.50 |
| Luis Mieses | CHW | 38 | CF | L | L | 35+ | D/C2 | $0.50 |
| Will Stewart | MIA | 38 | LHP | L | L | 35+ | D/C2 | $0.50 |
| Jason Foley | DET | 38 | RHP | R | R | 35+ | D/C2 | $0.50 |
| Pablo Abreu | MIL | 38 | CF | R | R | 35+ | D/C2 | $0.50 |
| Luis Liberato | SEA | 39 | CF | L | L | 35+ | D/C2 | $0.50 |
| Braden Webb | MIL | 39 | RHP | R | R | 35+ | D/C2 | $0.50 |
| Jeren Kendall | LAD | 39 | CF | L | R | 35+ | D/C2 | $0.50 |
| Raffi Vizcaino | SFG | 40 | RHP | R | R | 35+ | D/C2 | $0.50 |
| Dalvy Rosario | MIA | 40 | SS | R | R | 35+ | D/C2 | $0.50 |
| Thomas Jones | MIA | 41 | CF | R | R | 35+ | D/C2 | $0.50 |
| Brenan Hanifee | BAL | 41 | RHP | R | R | 35+ | D/C2 | $0.50 |
| Wladimir Pinto | DET | 41 | RHP | R | R | 35+ | D/C2 | $0.50 |
| Caleb Hamilton | MIN | 42 | C | R | R | 35+ | D/C2 | $0.50 |
| Yunior Perez | CHC | 42 | RHP | R | R | 35+ | D/C2 | $0.50 |
| Evan Miller | SDP | 42 | RHP | R | R | 35+ | D/C2 | $0.50 |
| Manuel Silva | PHI | 42 | LHP | L | L | 35+ | D/C2 | $0.50 |
| Luis Palacios | MIA | 42 | LHP | L | L | 35+ | D/C2 | $0.50 |
| Brett Cumberland | BAL | 42 | DH | S | R | 35+ | D/C2 | $0.50 |
| Will Vest | DET | 42 | RHP | R | R | 35+ | D/C2 | $0.50 |
| Jose Albertos | CHC | 43 | RHP | R | R | 35+ | D/C2 | $0.50 |
| Garrett Whitlock | NYY | 43 | RHP | R | R | 35+ | D/C2 | $0.50 |
| Juan Morillo | LAD | 43 | RHP | R | R | 35+ | D/C2 | $0.50 |
| Ofelky Peralta | BAL | 43 | RHP | R | R | 35+ | D/C2 | $0.50 |
| Carlos Guzman | DET | 43 | RHP | R | R | 35+ | D/C2 | $0.50 |
| Eduardo Herrera | ARI | 44 | RHP | R | R | 35+ | D/C2 | $0.50 |
| Michell Miliano | SDP | 45 | RHP | R | R | 35+ | D/C2 | $0.50 |
| Angel De Jesus | DET | 46 | RHP | R | R | 35+ | D/C2 | $0.50 |
| Alfredo Garcia | NYY | 47 | LHP | L | L | 35+ | D/C2 | $0.50 |
| Felix Bautista | BAL | 47 | RHP | R | R | 35+ | D/C2 | $0.50 |
| Guillermo Zuniga | LAD | 47 | RHP | R | R | 35+ | D/C2 | $0.50 |
| Cole Ragans | TEX | 47 | LHP | L | L | 35+ | D/C2 | $0.50 |
| West Tunnell | ARI | 48 | RHP | R | R | 35+ | D/C2 | $0.50 |
| Eduardo Diaz | ARI | 49 | CF | R | R | 35+ | D/C2 | $0.50 |
| Joe Barlow | TEX | 51 | RHP | R | R | 35+ | D/C2 | $0.50 |
| Chris Gittens | NYY | 54 | 1B | R | R | 35+ | D/C2 | $0.50 |
| Angel Felipe | TBR | 54 | RHP | R | R | 35+ | D/C2 | $0.50 |
| Hever Bueno | TEX | 55 | RHP | R | R | 35+ | D/C2 | $0.50 |