Baseball Theory: Supply and Demand in the Trade Market
In basic economics, supply and demand intersect at a point Q* and P*, where these values represent the equilibrium. But when supply is reduced, and demand is increased, the equilibrium changes. The market eventually corrects and the new equilibrium is set but in the short run, where demand exceeds supply, there's a shortage in the market and prices increase.
As the baseball offseason is rolling, the supply and demand model is shown with free agency and trades. Compared to the deadline, more teams are in the market to acquire and thus we assume that demand will exceed supply, especially on the trade market. This is especially true for starting pitchers this offseason, with the top five in WAR below:
| Player | 2019-20 WAR | 2021 Age |
| --- | --- | --- |
| Charlie Morton | 7.0 | 37 |
| Trevor Bauer | 5.8 | 30 |
| Mike Minor | 5.0 | 33 |
| Jake Odorizzi | 4.3 | 31 |
| Masahiro Tanaka | 4.1 | 32 |
Morton, who is the oldest, signed a one year deal worth $15 million with the Atlanta Braves after having his option (of same value) declined by the Tampa Bay Rays. Trevor Bauer won the 2020 National League CY Young and is in line for a large pay day. Minor posted a 5.56 ERA (5.23 DRA, 108 DRA-) in 56.2 innings in 2020. Given he'll be 33 and his fastball velocity fell from the 41st percentile to 20th percentile, there could be some concern that leads to only a two year deal. Odorizzi was injured most of 2020 and has had two sub 4.00 ERA seasons over the last five years. Tanaka is a mid rotation starter who has posted two seasons in his career above a 90 DRA- (2014: 97; 2019: 101). He's dependable and should receive a solid deal in free agency to a contender.
After Tanaka, the best free agent pitchers are James Paxton (who has an injury riddled past), Jose Quintana (posted a 4.36 ERA over the last three years in the North Side of Chicago but could still be a fine back of rotation arm), and the one year deal types in Garrett Richards and Taijuan Walker. Marcus Stroman and Kevin Gausman both signed their qualifying offers while Robbie Ray signed for one year and $8 million with the Toronto Blue Jays and Drew Smyly signed a one year deal worth $11 million with the Atlanta Braves.
Thus, given the costs in free agency, teams could look to the trade market to improve upon their rotation. The three biggest names likely to be on the move are Pittsburgh Pirates right-hander Joe Musgrove, Texas Rangers right-hander Lance Lynn, and Kansas City Royals left-hander Danny Duffy. The Pirates and Rangers posted the two worst records in baseball last year with the Royals posting the seventh worst; all three teams are building for the future and looking to improve upon their farm systems for when they will be competitive again.
Musgrove, who I have written about previously, has two years of arbitration remaining at a projected $3.5 million in 2020. He likely will earn about $8-12 million in arbitration over the next two years, a well below market average rate. Lynn and Duffy both have one year left on their deals at $9.3 million and $15.5 million respectively. Lynn will command more in the trade market given the performance over the last years and discounted rate, and will likely be followed by Musgrove and Duffy trailing in term of trade value.
Lynn and Musgrove have performed as solid number two starters (Lynn has posted DRA's of 97, 65, and 91 since leaving St. Louis and Musgrove posting DRA-'s of 77, 74, and 75 over the last three years as a Pirate), and so a team not wanting to pay a premium in free agency can turn to them. Duffy, for reference, hasn't posted a DRA- below 110 since 2017, representing the worst of the three.
Since the pitching market currently is relatively weak, it makes sense for more teams to get involved. We know that the Reds are willing to move Sonny Gray and the Rays are willing to trade Blake Snell. Both pitchers are number two starters with salaries below the market rate:
| Player | 2021 | 2022 | 2023 |
| --- | --- | --- | --- |
| Blake Snell | $11.1M | $13.1M | $16.6M |
| Sonny Gray | $10.2M | $10.2M | $12M |
Snell will be entering his age 31 season when his current deal expires and Gray his age 34 season. Both pitchers would represent upgrades over the current market, have a known cost, and their costs are below what they would receive in free agency. Using Baseball Prospectus' DRA and DRA SD, here's a 10,000 simulation of the five pitchers in the trade market over the last three years: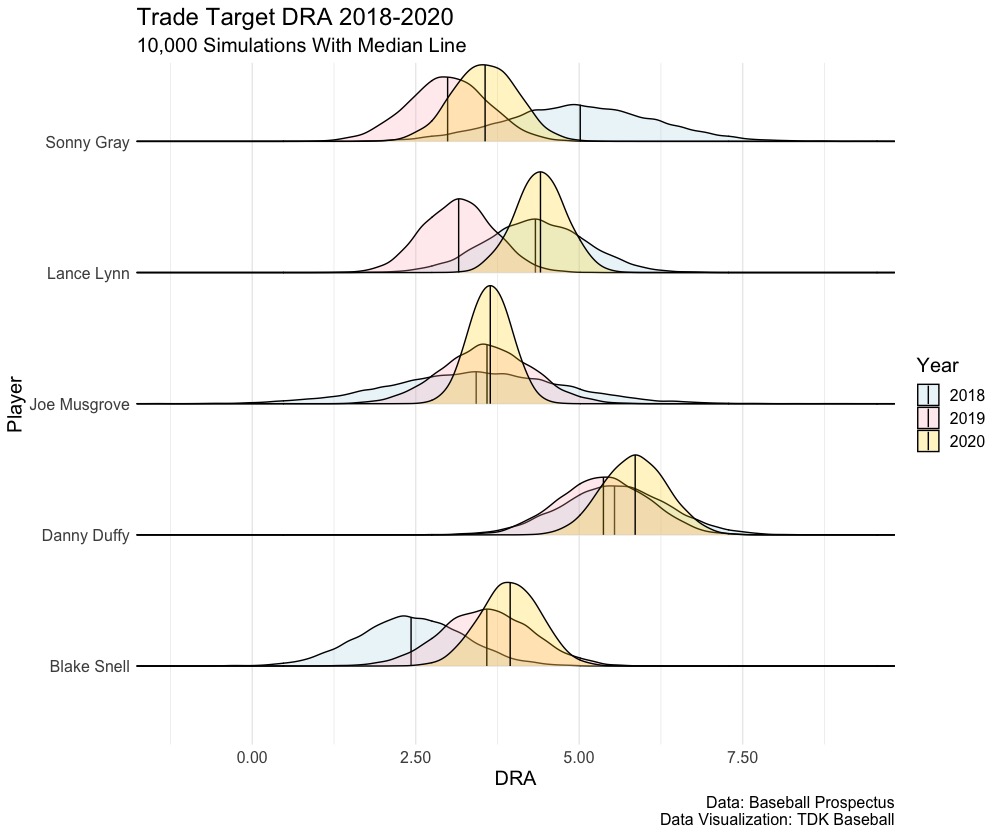 Danny Duffy is the worst of the five pitchers, posting the worst DRA in every season since 2018 of the pitchers and given the $15.5 million he's owed, Duffy represents a poorer option on the trade market. Lynn has been similar in 2018 and 2020, posing one of the best of the 15 combined seasons in 2019. He was in demand at the trade deadline and once again represents an upgrade to rotations but will cost prospects. Joe Musgrove has been relatively consistent, we're less confident in his 2018 season, but pretty confident in his 2020. His stuff looked much better coming back from injury and after receiving some interest at the deadline, Musgrove will likely garner more now in the offseason being fully healthy.
This is where Snell and Gray come in. Gray, after disappointing in New York, has become the pitcher he was early on with Oakland again in Cincinnati, posting a 61 and 73 DRA- of the last two years. Snell won the CY Young in 2018, the best season in DRA of the above 15 seasons and over the past two seasons has been on the same level as Musgrove, Gray, and for one season, Lynn. Snell provides more upside, showing that he can be an upper number two starter in the past, and he's left handed. At three years at a below market rate, younger and performing better than Gray, possessing more upside than Musgrove, and having a better track record than Lynn, the transactional cost of Snell would be high.
***
Before we examine what adding Snell and Gray to the market does, we need to define some terms. The transactional cost is the financial cost (either by signing the player or the salary of acquiring the player in trade) AND the prospect capital needed to acquire the player. A free agent's transactional cost is just the financial cost but the transactional cost of trading for a player is the financial cost plus prospect cost. Snell would require better prospects, or big league players, than a Duffy but putting Snell in the market changes the equilibrium. In terms of a simple supply and demand chart, the transactional cost will be the y-axis and be labeled as price P. Pitchers available to teams in the market will be on the x-axis and labeled as quantity Q; the quantity of pitchers available to be acquired in the market.
Let's examine the market without Sonny Gray and Blake Snell as trade options. Unlike Musgrove, Lynn, and Duffy, Snell and Gray are coming from playoff teams and are only going to be moved for a premium. Using code for supply and demand by Andrew Heiss, we create the following for our baseball example: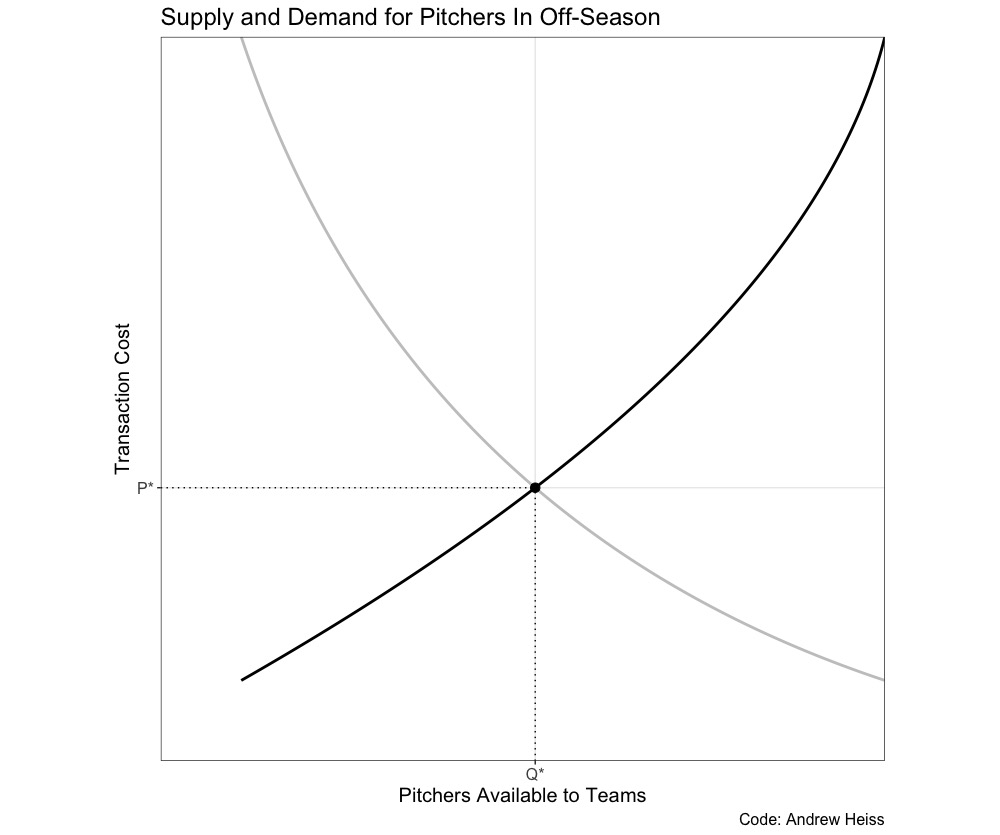 This is a simple supply and demand curve, where in the market, there is a Q* amount of pitchers available in the market and the cost to acquire the pitcher is P*. This rate, or the equilibrium, has commonly been the $/WAR in the market, which we're going to assume is $9 million for ease with a growth of 5.3 percent. For one win, a team is willing to pay $9 million.
So, what does adding Gray and Snell to the market do? The assumption is that Cincinnati and Tampa Bay are not in demand for pitchers thus demand will not decrease (and if the two pitchers are truly on the market, demand for pitchers could increase as those two teams will have a replacement cost). We also can assume that demand will increase because of the marquee names and upgrades. Instead of looking at marginal upgrades or depth additions, more teams would be interested in acquiring a starting pitcher that can lead the rotation like Snell and Gray. Perhaps the Los Angeles Dodgers, who have a strong rotation and wouldn't look to trade prospect capital for marginal upgrades, now enter the market. Additionally, the Rays and Reds could look at the lower cost free agents if they don't go internally. The Reds did just acquire Jeff Hoffman, with the potential to start, so at the floor demand will stay constant, but given the cost to acquire Snell or Gray, I do think it is safe to assume demand will increase in the market. Pitchers of this quality are usually not available in the market, let alone for a below market rate.
The number of pitchers available in the market increases but it is not a shift of the supply curve as we're just moving up the supply curve. We do assume the demand curve will increase as teams that are interested in acquiring a pitcher now increase (the Dodgers, in our example, are now added to the market).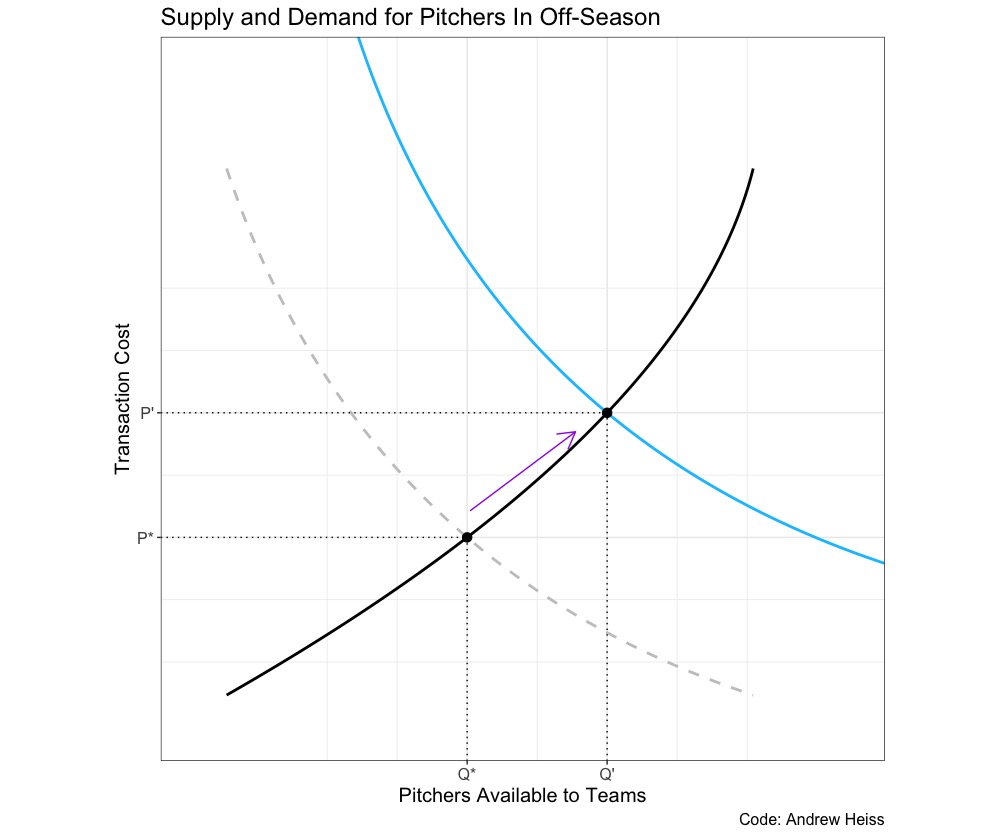 We find that while adding Snell and Gray to the market increases the quantity available from Q* to Q' and the price from P* to P'. There are more pitchers available in the market and since there's an increase in demand for acquiring a better starter on the market, the cost to a team increases.
Perhaps the best way to think about this is Blake Snell and Sonny Gray are only available in the market if the demand changes and the cost moves to P'; thus the difference in prices (P'-P*) can be viewed as the premium. Neither the Reds nor the Rays will move their top starter for less than what would be an above market rate, thus a premium needs to be paid. The supply won't move from Q* to Q' unless there's a premium, which we should believe to exist (and why demand will increase as teams will be more willing to acquire top of rotation starters). Snell and Gray both have deals less than the market value and have been better pitchers than the free agents available, including Trevor Bauer, hence the shift of demand if Snell and Gray are available. Thus we do believe that teams would be willing to pay rates of P' to acquire Snell and Gray but rates of P* for the other starters available in the market.
The Rays and Reds are trying to take advantage of a market in which the free agent class is relatively weak and the trade market has two arms that represent a number two or three in Lynn and Musgrove. Snell and Gray have performed better than Lynn and Musgrove, and Snell represents more potential, and given the three years of known, below market costs, the Rays and Reds want to receive a haul and allocate resources elsewhere (Rays some bats and Reds a shortstop). If putting the two pitchers on the trade market doesn't increase demand, neither will likely move.
If Snell and Gray are traded, then supply will actually shift as these two pitchers are no longer part of the supply (this is a shift of the curve to the left. The reason this isn't just movement but rather a shift is because the new teams won't be willing to trade these players thus the overall supply shrinks from N to N-2). Demand will also decrease back (a left shift) to some value with a floor of Q* (remember, we're assuming that the demand for Snell and Gray causes more teams to enter the market). Thus, the value for Duffy, Lynn, and Musgrove increase from some amount between P* to P'; by including Snell and Gray in the market, the Rays and Reds are indirectly helping the Royals, Rangers, and Pirates.
***
Earlier, I mentioned the market rate is $9 million for a win with a growth of 5.3 percent, if we assume Musgrove gets $3.5 million in 2021 and $8 million in 2022, and teams discount at a rate of eight percent, we get the following trade values in the traditional surplus format, ordered by trade value:
| Player | Present Value WAR | Present Value Trade Value |
| --- | --- | --- |
| Danny Duffy | 1.6 | $(1.1) |
| Lance Lynn | 3.9 | $25.8 |
| Joe Musgrove | 5.8 | $42.4 |
| Sonny Gray | 9.3 | $43.2 |
| Blake Snell | 10.3 | $45.3 |
Using STEAMER projections for WAR
Duffy has negative trade value and the other four should receive a large amount of interest. Musgrove might be discounted more given his injury history, so let's say he's more $30-$35 than $42, the Pirates could try to play the premium of what it would take to acquire Gray or Snell to get back to that $40 million. Snell and Gray will likely cost more in the trade market that the $45 million they represent as we've moved to P'. Lynn having only one year hurts his value, but a team could look to acquire him more at $30 million for 4 WAR and the ability to have roster flexibility in the future while not paying the additional cost for Musgrove, Gray, and Snell's control.
Tampa Bay and Cincinnati are trying to get an above market value rate on Snell and Gray, which should help the market for Musgrove and Lynn. While Snell and Gray will only be moved if their clubs get a better than market return, the values of Musgrove and Lynn also improve as teams play the Snell and Gray values off the acquiring teams.
Happy hot stove season.