Scouting Pitchers: An Insight on Griffin Canning, Mitch Keller, and JT Brubaker
Internally at TDK Baseball, I have been working to move a version of scouting a stat line to a regression based model, focusing on estimated WAR and Future Value grades of prospects. The initial iteration had Mitch Keller's 2019 season as averaging 1.46 fWAR over his first seven big league seasons (WARE7), ranking 13th among minor league pitchers; Griffin Canning came in at 0.91 WARE7 and ranking 35th in 2018, and JT Brubaker at 0.28 WARE7 and ranking 92nd in 2018. The full model is still under the developmental stage, but these are the initial results. I've been higher on Griffin Canning throughout his time in the minors and 4.58 ERA last season, lower on Mitch Keller in the past given his strikeout rates in the minors, and JT Brubaker has turned some heads in his first two outings. All data used throughout this post come from Baseball Savant. For the final evaluation I'll use the Theo Epstein school (see Homegrown by Alex Speier) with the future value grade in parentheses.
Griffin Canning
Canning, a 6'2″ and 180 pound right hander from UCLA struggled some as a rookie in 2019. He had a 4.58 ERA, 4.50 DRA, and 1.2 WARP in his 90.1 innings. The 23 year-old struck out 25 percent of hitters but only got 37.6 percent groundballs; an above average strikeout rate but a fourseam approach with up in the zone fastballs will lead to that:
Canning left a lot of fastballs down the middle a season ago, still having that issue this year. However, in 2019 he's been able to put his slider more on the edge but less down in the zone (it plays like a cutter, more later). Curveball was also a pitch that caught some of the zone last year with it more buried early in 2020. Adding some context, we see the following by strike count with the curveball in 2019: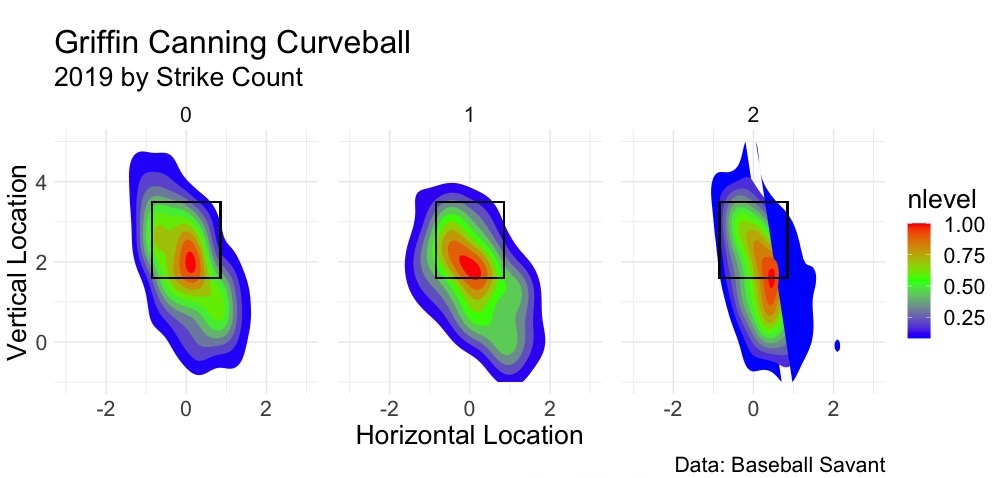 Canning was able to get it over for strikes with 0 and 1 strikes and then throw it below the zone to get swings and misses with 1 and 2 strikes. His movement profile is a bit more interesting:
The fastball has less arm side movement than the average righty and sat 94 mph in 2019 but just 92.3 to start off 2020. However, his spin rate increased from 2335 to 2407, which is above the MLB average. At the lower velo and higher spin the pitch will play more up in the zone than the 2019 numbers. The average velo and average arm side movement makes the pitch play more average than the spin. Generates average swing and miss with the pitch but the extra spin should help get more up in the zone as it has some rise to it. Grade: 50/55
The changeup sits 87 in 2020 but was at 89 in 2019, gets average arm side movement and below average vertical movement. About average differential in arm side and vertical movement from fastball. Comes out of the hand with too similar of a release, lowering the quality of the pitch. A fourth offering. Grade: 40/45
The curveball had below average spin in 2019 but has bumped it to above average at 2609 rpm. The pitch has average glove side sweep and vertical movement in 2019 but that's likely an error with the tracking system. In 2019, the pitch had average glove side movement with below average vertical movement. He's locating the pitch better in 2020 as a put away pitch, down and away to RHB and down and in to LHB. Was able to get it over for strikes in 2019 and as a put away pitch with 2 strikes. Plays average but with the added spin, it could tick up to be a little more than an average offering. Grade: 55/55
The slider plays more like a cutter. Below average glove side and vertical break. Pitch sits at 88-89 mph and has average spin. Located it down and a way to RHB and down and in to LHB batters a season ago. So far in 2020, the pitch has been left more up but still glove side. Gets way more swing and miss than an average cutter and more swing and miss than an average slider. The pitch can be used to bust into LHB's hands. Given the movement pattern and velocity, I would call this pitch a cutter. The pitch plays up and can be used in multiple ways to induce a swinging strike or jam a batter for weak contact. Grade: 60/65
A B2 RHS (50) with the fastball and slider profile. The fastball and curveball continue to improve and have gained spin since last season. It would give him three offerings with a show me changeup. Could find himself as a lower tier B1 (55) starter if fastball regains velo and holds a higher spin and the curveball can show more depth.
Mitch Keller
Keller is a 24 year-old right handed pitcher for the Pittsburgh Pirates standing at 6'2″ and 210 pounds. Pitched to a 7.13 ERA a season ago but had better indicators, such as a 28.6 percent strikeout rate and 4.18 DRA. Features a four pitch mix but had problems locating a season ago. Made two starts in 2020, the first being a gritty start and the second he left early with an injury.
In 2019, Keller's fastball caught too much of the plate and he was able to finish the changeup low and glove side. It's a clear fourth pitch as he threw just 28 last season. The slider is mainly used against right handed batters with the curveball being both an out pitch and a pitch that he can use to get strikes. Throughout the first inning, Keller mainly relied on the fourseam fastball and the slider first time through the order in 2019.
The fastball had above average velocity (98 mph) and above average spin, playing up in the zone and could improve with a new pitching style as the previous Pirates focused on contact and pitching low to induce groundballs. Pitch has average arm side movement run and vertical movement. The pitch is flat, inducing less swing and miss than average. In 2020, the velocity is down 3 mph and spin down 175 RPM. That could be related to injury. I think the pitch is just average but given a new approach perhaps they can get it to play better up in the zone with better command. Grade: 50/55
The changeup is a show pitch, using it against LHB over RHB. Pitch has above average velocity (91 mph in 2019 and 87.7 in 2020) and doesn't have that separation in velocity. Pitch doesn't much depth and follows the fastball closely. Executed the pitch well in 2019 by location and threw just 6 before injury. It's clearly below average and not useable against right handed hitters. Grade: 40/40
The curveball has average depth and glove side sweep. Could command to get a strike on the pitch and get swinging strikes, which he got at a little above an average rate. In 2019, it had plus spin but the spin dropped to league average early in 2020. This could potentially be because of the injury to his side. If it can rebound, the pitch has the chance to be plus but as is, it's just a little above average. Grade: 55/60
The slider is a new pitch that Keller developed. Pitch stat 88 mph last year and 86 mph this year. Gets average glove side and vertical movement but spun the ball really well before injury. Is a weapon against LHB given his ability to back foot the pitch. Gets well above average swing and miss on the pitch. Given the velocity and control, the pitch plays plus despite the average movement. It's a new pitch and given how quickly he grasped the pitch, I think it will continue to develop as plus and his struggles this season are a result of his injury. Grade: 60/65
Keller looks to be a mid tier B1 (55/60) RHS with a higher end B1 RHS ceiling (60/65). Pitching up in the zone should allow his fastball play better with his curveball, which is one of two plus pitches. The slider generates swing and miss and is a weapon against LHB. The change is clearly below average and is just a show fourth pitch. His stuff has played down so far in 2020 but I think that's more injury related (trainer came out in first start and he left early in his second). If his stuff this year stay, he's more of a backend B2 type pitcher.
JT Brubaker
Brubaker made his debut in 2020 and has only thrown only five innings. He's a 6'3″ and 185 pound right hander that's already 26 and will turn 27 before next season. Was able to generate some groundballs and little swing and miss in the minors. The stuff played well and was sitting 96 with the fastball in the 2017 Arizona Fall League. So far he has shown good command and he has limited walks in the minor leagues: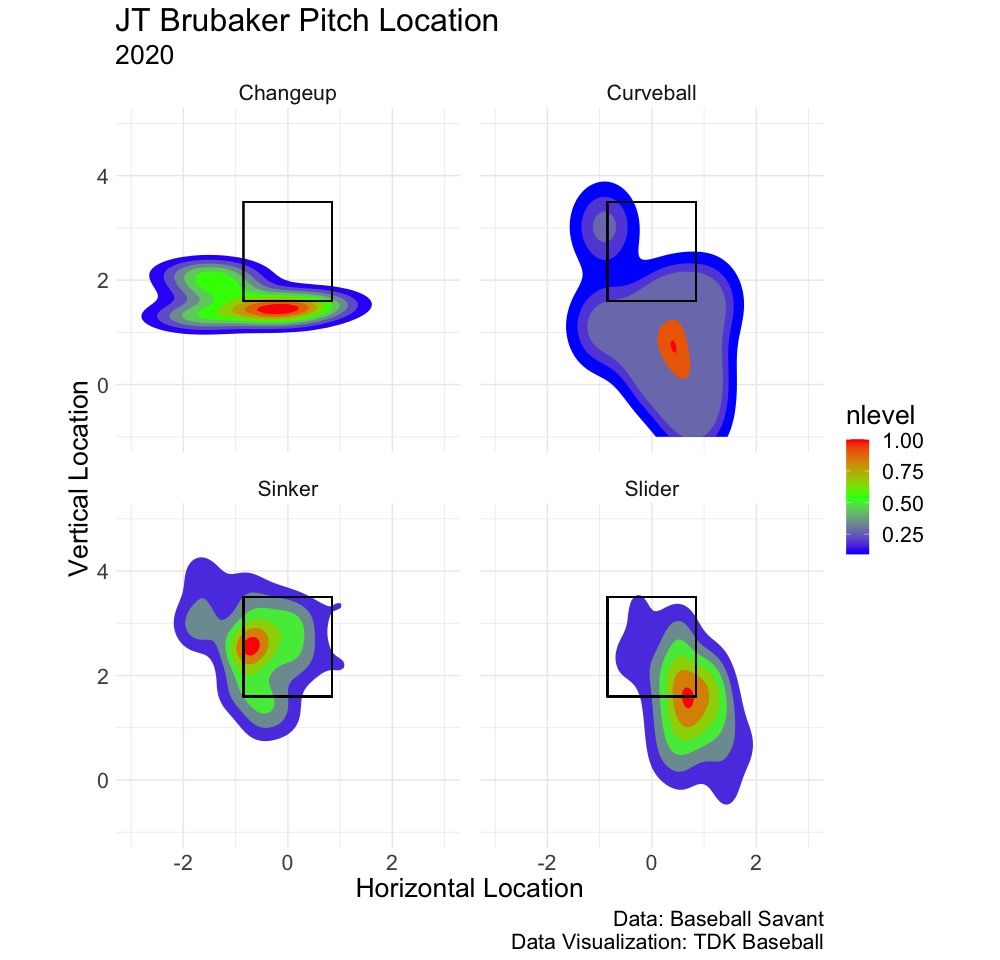 He's been mainly sinker and slider so far with the following breakdown:
| Pitch Name | Count |
| --- | --- |
| Sinker | 29 |
| Slider | 24 |
| Curveball | 10 |
| Changeup | 6 |
Curveball he's thrown low in the zone looking for swing and miss in the limited amounts he has thrown. The changeup is a fourth offering, but with this mix he shows starter traits and will get his first chance in Thursday.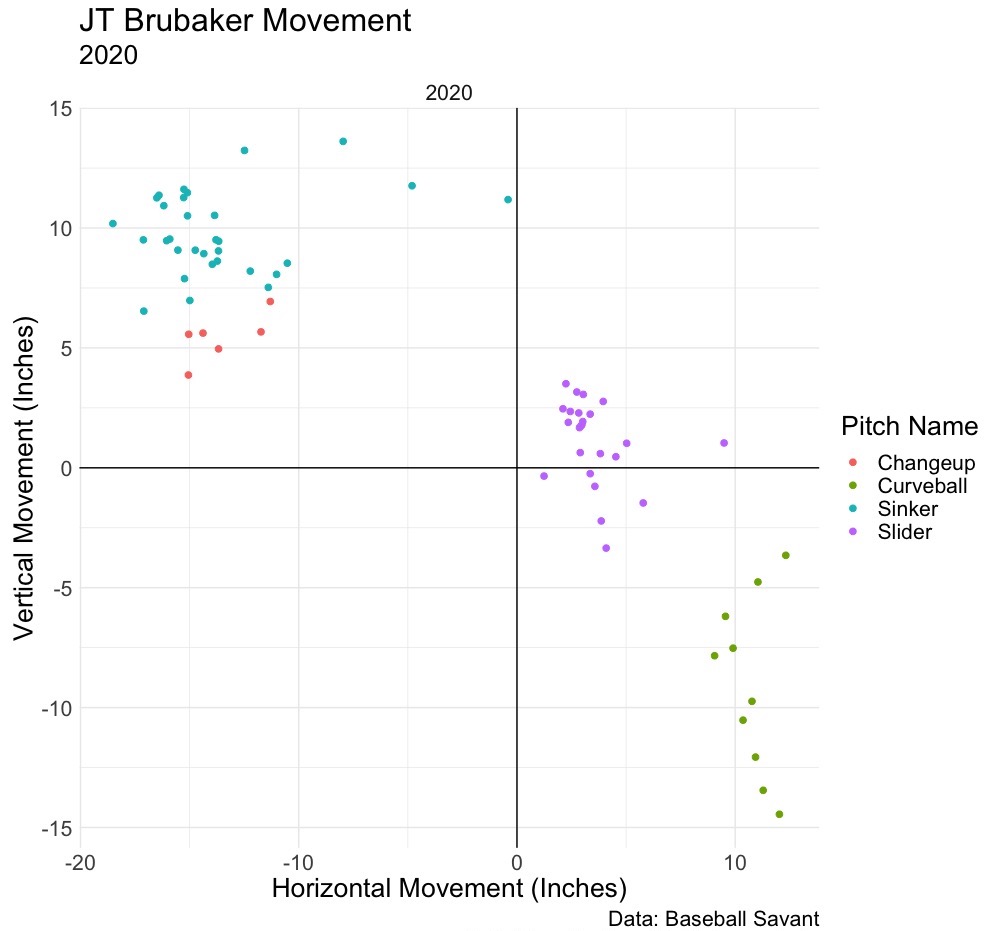 The fastball gets some nice arm side run to it and sits at 94.7 mph with a spin of 2451 RPM. It could work up in the zone given the spin but with the arm side, it's a great pitch to induce weak contact against RHB and to throw away and miss the end of the bat against LHB. Statcast classifies the pitch as a sinker with the arm side movement but given the spin, I believe it's more of a fastball. The pitch has shown to be plus early on and should continue to as a reliever. It remains to be seen how the pitch holds up as a game progresses. As a starter, the pitch will likely play a half grade down given can't max out when entering the game. Grade: 55/60
The changeup is a pitch used only low and not often from Brubaker. Has average arm side movement though gets more drop. Has 5 mph of separation to the fastball with similar arm side movement and more drop. Has thrown it down below the zone but is probably only a pitch against LHB. Don't think it's a valuable offering at the Major League level without improvement but has a chance. Grade: 40/45
The curveball sits at 82 mph and just 10 pitches so hard to draw conclusive about. However, it spins at 3006 RPMs, well above average, and generates more glove side sweep and vertical drop than an average RHP. Has only thrown it below the zone to induce swing and miss and not as a pitch to throw for a strike, and the lack to throw for quality strikes bumps it down a half grade. Grade: 55/55
The slider has seemed to be Brubaker's best weapon to get a swing and miss. Has some vertical movement (above average) and sits at 88 mph with above average spin. Breaks glove side some but is below average, thought the vertical break and velocity makes up for it. Is a really good weapon against LHB and has located well down and glove side. Grade: 60/60
Brubaker as a reliever has 2 plus pitches and an above average curveball. This gives him a B1 ceiling (60) as RP with the fastball's arm side run and two above average breaking balls. As a SP, it remains to be seen how the stuff holds up throughout a start and if there's enough command to throw quality strikes without the FB. Gives him lower tier B2 SP (50) stuff and is more of a backend/depth SP. Out of the pen can be a multi inning threat late in games.