Scouting: Pittsburgh Pirates Top 20 Prospects
In baseball, there's three main scouting methods: Future Value (placing a grade on the 20-80 scale), Overall Future Potential (OFP; the 75th percentile on the 20-80 scale), and the Theo Epstein scale (which uses a letter and number system). Translating the Future Value onto the Theo and adding trade value found from FanGraphs, we get the below comparison: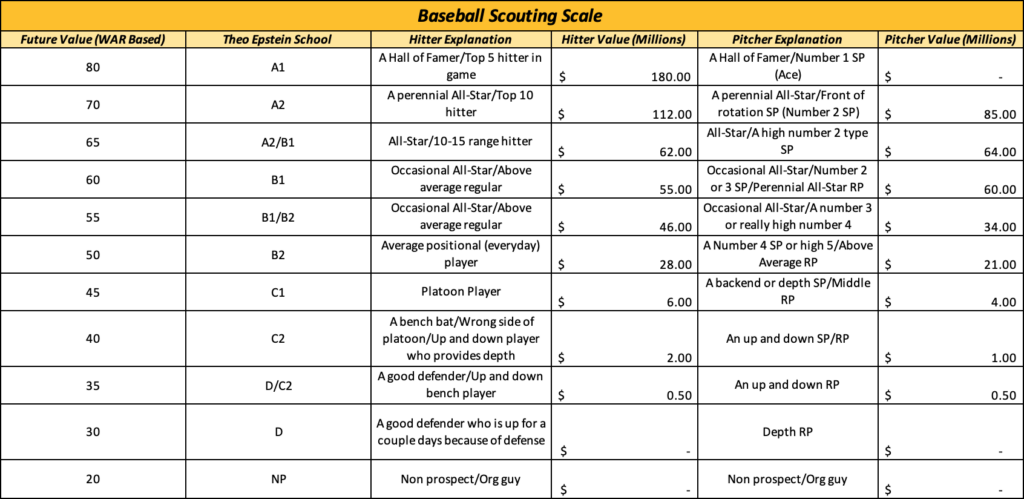 Understanding the scale is helpful and shorthand notation for what a player is expected to do in the Major Leagues. Combining this shorthand, reading reports from other websites, and adding video analysis, my Pittsburgh Pirates top 20 list will be the following, with sections on five prospects just missing and some other notable players: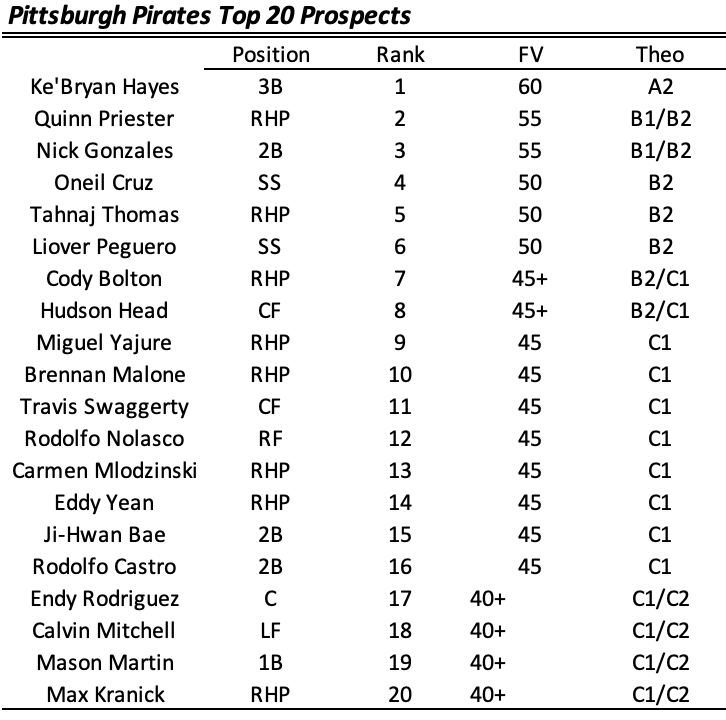 ***
Pittsburgh Pirates Top 20
Ke'Bryan Hayes (3B, 60:A2): The Pittsburgh Pirates third baseman broke onto the scene in the MLB last year, hitting .376/.442/.682 with a 195 wRC+ (though a .340 estimated wOBA). In 2019, FanGraphs noted Hayes had an average exit velocity of 92 mph and a max of 106 mph. Through a source, I acquired that 46 percent of Hayes batted balls were hit at least 95 mph in Indianapolis but only averaged a 10 degree launch angle. In his short sample with the Pirates (65 batted balls), Hayes averaged 92.8 mph exit velocity (max 110.3 mph) with a 7.4 degree launch angle and 55.4 percent of his batted balls being hit greater than 95 mph. The barrel rate was just 6.3 percent because of the amount of balls hit down. Recreating the Statcast radial chart with hit probability, we see the following: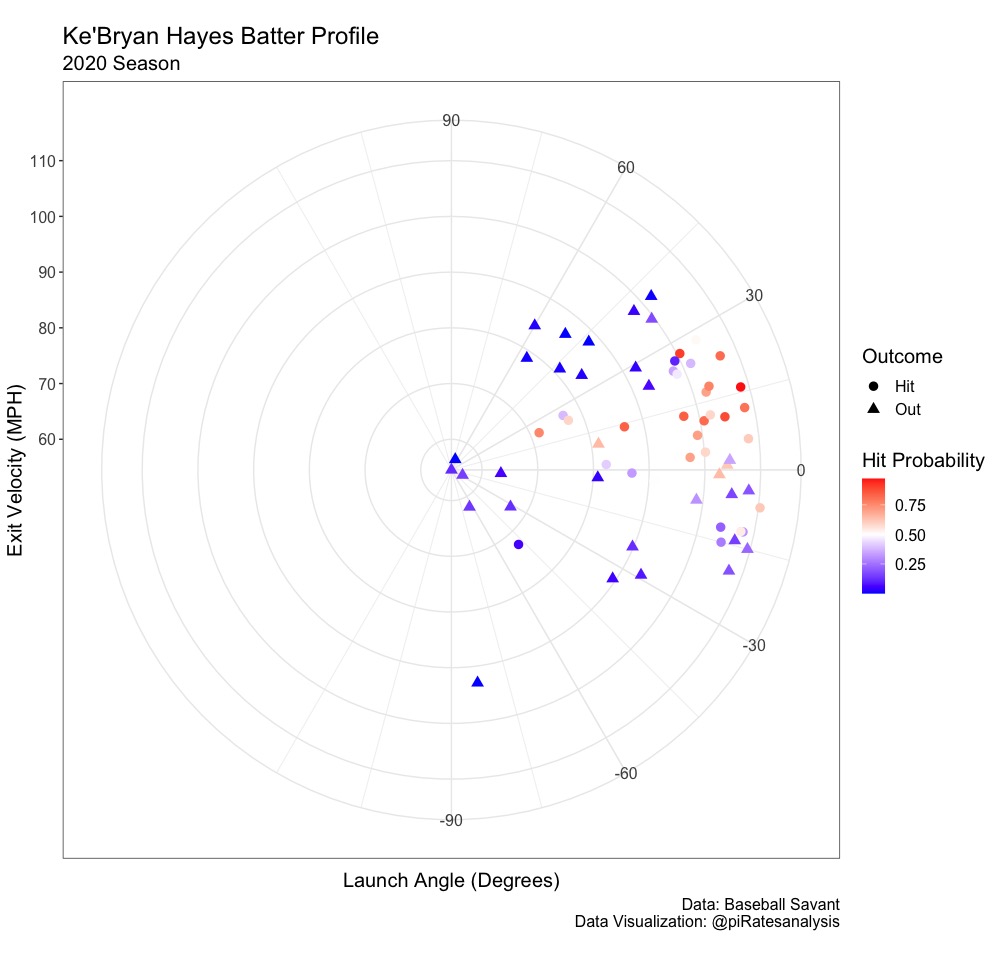 Hayes getting the ball up in the air would increase his expected wOBA .340 (actual was .464) but a .340 wOBA is still well above average (Colin Moran's 2020 wOBA of .340 led to a 113 wRC+). I am more bullish as Hayes has made some adjustments to his swing in the last year. Looking at 2019 (Indianapolis), early 2020 (spring training), and with Pittsburgh (September 2020), there have noticeable improvements:
Hayes is now more open, even more so than in camp, and more importantly, he has lowed the hands. This allows the power to play more and for his hard hit balls to go for extra base hits. Tapping into the raw and translating to game is why I'm willing to 60 Hayes. Looking at the side, Hayes hands are more out in front of his body, shortening the load time and allowing the barrel to remain on path:
Even if Hayes cannot tap into his power and has just average game, the floor is still high because of the defensive ability (+3 outs above average in just one month of play). An average hitter with plus defense and above average speed (video below) represents a high upside player. STEAMER projects a .281/.350/.462 line with 3.0 fWAR puts him as a 55 (low end A2/high end B1). But with the swing changes and adjustments, I think the power can continue to play up more. A 120 wRC+ third baseman, elite defensive, and ability to steal some bases can push into the 3.5-4.0 fWAR range. The upside of this profile with the floor puts him as the best prospect in the system.
2. Quinn Priester (RHP, 55:B1/B2): Quinn Priester was the Pirates 2019 first round pick and he really broke out in Instructional League in Florida this fall, sitting in the mid-to-upper 90s and clocking 98 mph. Using video from Steve Givarz YouTube, it appears that Priester is adding a slider to his toolbelt and one that catches Adley Rutschman (top three prospect in baseball, 2.6 years older than Priester, near big league ready) looking for a strike three:
It's a new pitch that is being learned, and the pitch that he threw to Rutschman was good enough for the Orioles future backstop to lay off for it to be called a strike three. What really is there for Priester is the fastball and curveball combination:
Priester shows a fastball with good arm side run and followed with a curveball showing good depth to it. The fastball, given the velocity and movement profile, projects as being plus as does the curveball, giving him a pair of 60's. If the fastball velocity can hold over the course of a start, this pushes the pitch to a potential 70. If the slider continues to develop, or the changeup, that gives Priester at least three average pitches that can be used to generate swing and miss. The 6'3″ and 200 pound righty has a good frame and is an athletic arm with plus arm action and an easy, repeatable delivery. He should be a quick riser through the system and at least be a mid-rotation starter. I'm more bullish given the fastball and curveball combination, command, and his quick learning ability (taught himself how to pitch and used his own Rapsodo in high school), hence the 55 and low end B1 or high end B2 pitcher at the moment. Priester looks like the type of arm who can lead a rotation with strikeout stuff and could see him rise up to being a 60 by years end.
Two other quick notes are that despite the higher hands on the fastball and the lower hands on the slider and curveball, it appears to just be random and not tipping pitches:
The final note is that Priester looks very similar to former Pirates pitcher A.J. Burnett with the fastball and curveball combination, arm action, and the mound presence (something Priester looks to do really well).
3. Nick Gonzales (SS, 55:B1/B2): Most of Gonzales can be found in the 2020 Draft writeup. At New Mexico State, Gonzales hit .399/.502/.747 (note the lack of competition and hitters environment), but answered with a .351/.451/.630 and MVP on the Cape in 2019. There's a shorter frame here, just 5'10" but he has the chance to hit and hit for at least average power. Here's the swing from the Cape via Prospects Live:
Gonzales starts with an open stance and some back knee bend, with his hands up high before the load. There's a medium leg kick here that he uses to time pitches and generate movement forward. He gets some loft in the swing (which is why I think he'll hit for at least average power) and then quickly explodes through the zone. This compact swing allows for the ability to adjust to the ball flight and change the attack angle to optimize based on pitch location and trajectory. There's no real wasted movement here and this ability to consistently put the bat on the ball leads to a higher floor as a plus hit middle infielder. Looking at the side angle (same video from Prospects Live), we can see how explosive Gonzales is (even on the foul ball).
Gonzales gets through the zone so quickly and is able to adjust. If he stays back a little longer, he could get more into the power on that particular pitch. But the simple setup and explosive hands should allow Gonzales to be an above average starter at a middle infield location.
4. Oneil Cruz (SS, 50:B2): No prospect has as much volatility in them than Cruz, who stands at 6'7″ and is still at shortstop. Despite the size, he still put up 4.9 fielding runs above average (FRAA) in 2019 across three levels, thus giving him a chance to stay at the position. While he did have a game with three errors in the Dominican Winter League this year, Cruz still has a shot to be an average fielder and maintain being a starting shortstop by making plays like the below:
The arm is legit and can play anywhere on the field, making it even more likely he could stick at short, making it tempting to put him as a 55. There's star potential (.301/.345/.515 in High-A Bradenton and .269/.346/.412 in Double-A Altoona) but there are concerns such as the 5.5 percent walk rate and 26.2 percent strikeout rate in Bradenton. While the walk rate rose to 11.0 percent in Altoona, the strikeout rate still sat at 25.7 percent. Additional hit tool concerns arise when looking at the 2019 Arizona Fall League (.190/.306/.214 and 42.9 percent strikeout rate), 2019-20 Dominican Winter League (.185/.267/.259 and 33.9 percent strikeout rate), and the 2020-21 Dominican Winter League (.245/.260/.347 and 28 percent strikeout rate). The 2019 Fall League comes with an injury and the 2020-21 winter league comes with Cruz being involved in a car accident this fall, but the lack of hitting and strikeout rate against the better competition he's seen is the reason for rounding down to projecting a league average bat.
Using video from Felix Paredes, we can look at the swing of Cruz this winter and to spring training:
Cruz has long levers, limiting the hit tool, but he has easy power that allows him to dead center for a homer in 2020 Spring Training and the opposite way to left-field in the Winter League. The easy raw power is what you dream on with Cruz and one that you project playing shortstop with easy plus power batting in the four spot of the order. The swing in the winter league appears to be shorter, potentially allowing the hit tool to play up to a 45, which would place Cruz again among the 55's. From the side we see the plus bat speed and some small tweaks: a higher leg kick and more rhythm in the swing:
The power should play in game, the biggest question is the hit tool. With Cruz likely starting the year in Triple-A Indianapolis, there's a chance he will make his Major League debut. I personally would like to see the strikeout rate and more contact made compared to the last three "seasons" (two Winter Leagues and the Fall League) to push back in the 55's. The right tail on Cruz is a power hitting shortstop but the left tail is a player whose long levers don't allow him to make enough contact. The median outcome is an average regular, though one of the tails seems to be more likely.
5. Tahnaj Thomas (RHP: B2): Thomas hasn't pitched above rookie ball and needs to be added to the 40-man this upcoming winter. FanGraphs has Thomas sitting 93-98 mph with topping out 100 mph (Baseball America notes that he topped out at 101 in Bristol). Again using Givarz YouTube, we can watch Thomas from the Fall Instructs. The fastball plays and is electric, being able to be used up in the zone and to get swing and misses. The slider also looks to be plus in generating swing and miss down in the zone:
In one at bat, Thomas is able to use the slider as a get me over pitch and comes back the following pitch and blows a fastball right by the hitter.
When projecting Thomas, you see at least a backend relief pitcher that can go two innings and get the best hitters of a lineup out. The fastball and slider are above average, there's an athletic frame, and quick arm action. This gives Thomas a solid foundation to start from and the right tail would be a number two or three starter. The command in the outing wasn't great, and he threw what looked to be one changeup that was left up and arm side. In 2017 and 2018, Thomas posted a 16.5 percent walk rate in 58 innings but lowered it to just 7.0 percent in 48.1 innings in 2019. Thomas has the athletic ability for command to come but the lack of a changeup makes me project Thomas more in the backend of a bullpen. Outside of the potential and electric fastball/slider combination, the arm action of Thomas is intriguing (video is slowed to 75 percent):
The arm action is short (similar to Lucas Giolito and Shane Bieber), which we know helps velocity and lowers injury risk since it is more efficient within the kinetic chain. The athleticism and this arm path do indeed allow for the Pirates to continue developing Thomas as a starter, where a mid rotation arm to top of the rotation arm are not without question if a third pitch is developed. Otherwise, the Pirates are looking at a multi-inning backend reliever. I would like to see Thomas pushed more aggressive this year given the need to add him to the 40; similar to Cruz, if Thomas comes out and dominates against better competition a 55 at years end isn't out of the question. I'm just not there on the command and the lack of a changeup or second breaking ball gives me just enough pause.
6. Liover Peguero (SS, 50:B2): Peguero came over in the Starling Marte trade and is an athletic shortstop who hit .326/.382/.485 in 2019 across Rookie Ball and Low-A and was a neutral player defensively (0 FRAA) per Baseball Prospectus. What Peguero has shown is that he consistently hits the ball hard (FanGraphs has average exit velocity of 90 mph and a max at 105 mph when Peguero was just 18 years old. On Steve Givarz YouTube, there's video from Instructs against the Orioles. In the second at bat, Peguero goes down looking on a slider, but in the first at bat, Peguero hits a ground ball pullside:
Peguero starts with hands out away from his body with a more vertical bat, which is discussed by Ted Williams in The Science of Hitting and discussed in Swing Kings by Jared Diamond. There looks to be a medium leg lick but Peguero does get through the zone quickly. He limits his power potential despite the above average hit data because of the flat bat path. In this video, the pitch is about mid height and Peguero gets on top of it and hits it into the ground (51.2 percent groundball rate for his career). In early 2019 video from Eric Longenhagen of Peguero, we can see the flat path more and him loading his hands:
Peguero drops the hands and loads them but the path remains flat. Adjusting the attack angle could allow the shortstop to hit for more pop that the batted ball numbers suggest. The tradeoff could weaken the hit tool, however, and in the video from Longenhagen, Peguero does offer good back-to-back takes.
Peguero's hit tool is strong and remains athletic, so average power is the expectation just a slight tweak to the attack angle putting it a bit above. On the defensive side, Christopher Jared posted a video of Peguero attacking the ball and making a really nice play.
Peguero attacks the ball and plays the short hop before unleashing a strong and accurate throw. It's a high hop that he is able to make a break on and field and throw on the run. The athletic ability and arm strength allow Peguero to project as at least an average starter regardless if he's at short or second.
7. Cody Bolton (RHP, 45+:B2/C1): Cody Bolton was a 2017 sixth rounder who signed for $44,100 more than slot and there's a chance he makes his Major League debut this year. FanGraphs has Bolton at 92-95 mph (tops 97) and Baseball America 93-96 mph (tops 98) giving him a good fastball. Here's a strikeout early in 2019 on a fastball up in the zone:
It has nice life and has a jump at the top (given the 2450 spin rate per FanGraphs, his Fastball has a Bauer Unit of 26.3 and can continue to be used up in the zone, but it's not his best pitch; the slider generates swings and misses:
The pitch has good break glove side and good depth that projects the pitch as plus, one that gives him a swing and miss pitch that at least profiles him as a two way pitch power relief pitcher.
The biggest pause is the health (right forearm strain in 2018, groin in 2019). That does give pause to the projection of being healthy enough to pitch consistently, but even Charlie Morton maintained a 3.0 fWAR pace in Houston despite the durability and posted 3.26 ERA in 2013 and 3.72 in 2014. There's enough in Bolton – the fastball and slider – that you project mid rotation upside, but also the arm action is long. This bumped him from a potential 50 to a 45+.
One other note is that after dominating High-A Bradenton (a 1.61 ERA, 28.9 percent strikeout rate, 5.9 percent walk rate), the right-hander posted a 5.85 ERA, 19.8 percent strikeout rate, and 9.6 percent walk rate in 40 innings with Double-A Altoona. I think you bet on the stuff that he's a mid rotation arm and should be ready in Pittsburgh at some point this year as another pitcher that needs to be added to the 40-man by December.
8. Hudson Head (CF, 45+:B2/C1): Head was a 2019 second round pick that signed for $3 million, whose trending up after a .283/.383/.417 slash (119 wRC+) in his first taste of pro ball. The left-handed bat is the type of player who after another strong showing is likely not available in a trade. I do have concerns about the swing going forward, as the arm bar could prevent consistent ability to get contact around against better stuff and it takes a while for him to load the hands. On the other hand, the mechanics of the swing appear to be cleaned up compared to his high school days illustrating his athletic ability and ability to make tweaks. We can see the comparison here:
The hands are lower (shortening the time needed to load the hands) but there is still a ot movement that combined with the arm bar make it more of a question on how he will hit elite velocity and adapt to plus breaking stuff. It's really good bat speed though and he could have his in game power play up. FanGraphs notes a 89 mph exit velocity and 108 max as just a 19 year-old that is continuing to develop. The stance is rather wide, which makes it harder to generate power and remain athletic throughout the swing. Using video from FanGraphs, Head looked different in 2020 Instructs in Arizona.
The pre swing has more movement and rhythm to it – which is fine, you don't want to be a statue and try to 0 to 60 – but the hands are back higher and the load time of the hands is lengthy. It appears Head has also added a toe-tap and is late on the slider. The swing from Prospects Live in 2019 is much better than the 2020 showing, and the 2019 swing I still think could use a little cleanup to get rid of the arm bar and lessen the amount of time it takes to load the hands. This is the type of player a team should take a gamble on because if it clicks, he wouldn't be available on the trade market. His 2021 development (especially the swing) is something to watch and monitor, especially as sites such as ESPN (Kiley McDaniel) and The Athletic (Keith Law) have Head just missing their respective top 100s. I wouldn't be there just yet because of the swing, but I like his previous adjustments, the athletic frame, and he did have success in his first season of pro ball.
9. Miguel Yajure (RHP, 45:C1): Yajure was the biggest name acquired from the New York Yankees for Jameson Taillon, and he did make his Major League debut a season ago posting the below metrics in a small sample. The fastball and curveball mirror each other well and at times the cutter has shown sneaky late glove side movement but stays up more. The curveball is an 11-5 pitch that shows some good depth and above average spin. The fastball should be able to play up in the zone more with the spin rate and velo.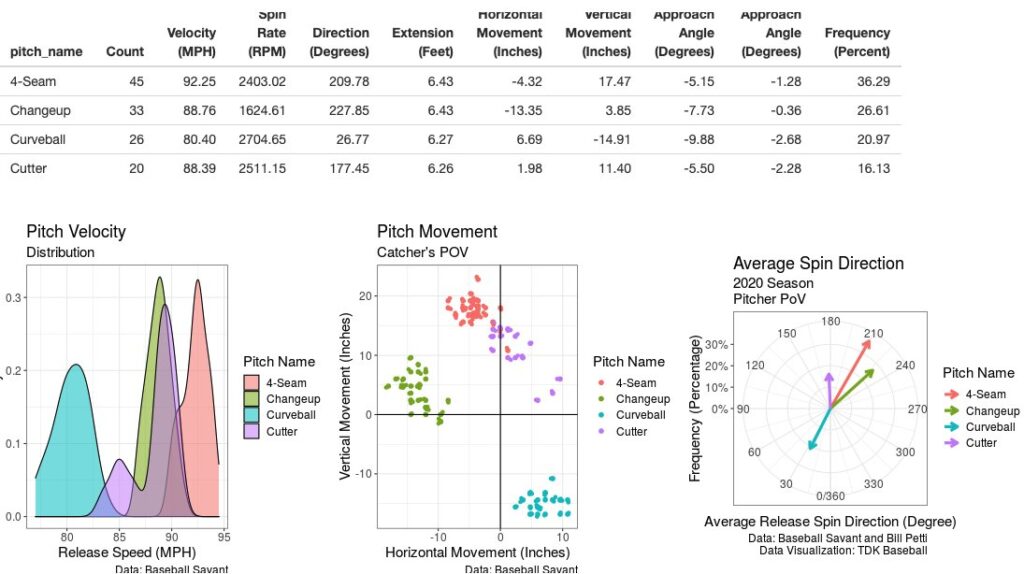 The motion is smooth and repeatable, allowing him to throw strikes (just a 5.4 percent walk rate in 138.2 innings across High-A and Double-A in 2019. Here's a high fastball to Willy Adames and a curveball to Brandon Lowe from Baseball Savant:
As can be seen, there's not a lot of moving parts, simple mechanics, and a fastball that gets on Adames quick and a curveball showing nice depth. He's also shown a cutter that gets in on a left-handed hitters hands, like the one below, and can be enough of a change of speed and late movement to get swinging strikes running away from right-handed hitters.
There's enough offerings to be a mid-rotation starter and the command is really good, especially with the easy and repeatable arm path. He'll likely start the season in Triple-A Indianapolis, but has enough there to continue pitching in the MLB as at least a four or five starter. I have him ranked ahead of Malone because of the proximity to the MLB.
10. Brennan Malone (RHP, 45:C1): Malone is a former first round pick (33) in 2019 that was traded for Starling Marte. The now 20 year-old throws gas, sits in the middle to upper 90s, and has recently thrown 100 mph in a bullpen session. In 2019, IMG (the high school Malone attended in Florida) posted a draft preview of the right-hander, where he's able to go up in the zone with explosive velocity:
The Pirates posted a video of Malone this winter from the side, where you can see the quick arm action.
Here's the bullpen where Malone is throwing 100 on the heater:
The fastball will play and the arm is quick, the question becomes more about the secondary stuff, which he throws a slider and a curveball with the slider being better. Here's video of the slider from the 2019 AZL from Prospects Live:
The pitch is hung and shows some depth – I'd like to see more depth to consider it plus -but it does drop (though there's limited glove side movement to it). On another fastball from high school, despite the pitch being a ball, Malone shows some good arm side movement to the pitch (video from Prospect Pipeline).
Malone is ways away from Pittsburgh and needs to refine the breaking stuff a bit more. The fastball is legit, in the upper 90s with arm side movement, and the arm action is quick. There's a developmental process but the ingredients are there for Malone to follow his fellow 2019 first round pick Quinn Priester in leading the Pirates rotation.
11. Travis Swaggerty (CF, 45:C1): The former first round pick in 2018, Swaggerty hasn't hit all that well in pro ball, just a .257/.339/.381 slash with a 10.5 percent walk rate and 23.1 percent strikeout rate. He posted 7.4 FRAA in High-A Bradenton in 2019 and profiles as a plus defensive center fielder (though, at PNC Park with the spacious left field, perhaps putting him there would be beneficial). Looking at 2019 video from Prospects Live, I don't think that Swaggerty will hit for much power (perhaps just average game) but is more of a defensive first and on-base center fielder.
It's an athletic swing with a leg kick, doesn't really load the hands fully but still gets in a good position to hit. He seemingly gets out in front but is athletic and has a good feel for the bat to still make contact (which could limit the power). A speedy, .340ish on-base, and good defensive center fielder is still a win and he should be up by midseason. There's still more in there to be unlocked with power, but average starting center field upside is there.
12. Rodolfo Nolasco (RF, 45:C1): I cannot find video on Nolasco, but I am rather intrigued nonetheless. He hit .302/.373/.472 with just a 11.6 percent strikeout rate as a 17 year-old in the DSL in 2019. He's 6'1″ and 175 pounds so should have some more room. I'm mostly excited given that, via a source, his average exit velocity was 90 mph. It came with just a 6º average launch angle, but the power potential and already averaging 90 mph as a 17 year old is rather promising. He showed good feel for the barrel and making contact in the DSL, and while I might be more aggressive on Nolasco than most despite not seeing video of the swing, I think he (along with Escotto and Malone) are the biggest 2021 breakout candidates in the system.
13. Carmen Mlodzinski (RHP, 45:C1): A lot of Mlodzinski's writeup is the in the linked draft piece in Gonzales' description. The right-hander posted a 37.04 percent strikeout rate on the Cape in 29.1 innings. He can throw the 2-seam in the mid 90s, which generates nice arm side run (though the camera does play a trick, video from Gutter Towers). The curveball has a below average spin rate (2350-2400 RPM), but the slider is 2400-2500 but mixes with the cutter. at times. In the full linked video, he does go up stairs with an upper 90s fastball with some hop. He backdoors the 2-seamer, which can also be used to bust hitters in. The slider shows some good depth (in the video, look at the Cornell highlights) and tosses in a 12-6 curveball. It's a higher 3/4 arm slot that he repeats well and his frame (6'2″ and 230 pounds) is the type that can eat innings.
14. Eddy Yean (RHP, 45:C1): There's no video on Eddy Yean, so this is all second hand reading but it does sound like the type of right-handed pitching project that is right on the verge of breaking out. Both FanGraphs and Keith Law mentioned Yean being of interest back at the 2019 trade deadline. He throws in the mid-to-upper 90s with a changeup and slider. Has an athletic frame at 6'1″ and 180 pounds. He needs to be added to the 40-man this winter.
15. Ji-Hwan Bae (2B, 45:C1): A former Braves international free agent the Pirates were able to sign when the Atlanta bonus scandal came up. He also has a sexual assault that is concerning and more important than his playing abilities. In 2019, Bae hit .323/.403/.430 in A ball, but just -0.9 FRAA. He shows the ability to consistently make contact and to get on-base with limited power, just an 85 mph average exit velocity and 99 mph max velocity. The swing doesn't look to generate much power, seen here on this home run from this past summer.
There's a high leg kick with the hands up high but he does get the bat through the zone quickly, which is why Bae should remain a high contact and on-base player. He gets out on the front leg, which again limits the power upside despite this being a home run. Not all players should be looking to generate pop, especially one of Bae's profile, so it is less concerning. Alec Dopp posted video of Bae from 2019, and it appears the middle infielder has a natural loft to the swing.
Again, he won't be a power hitter but could for plenty of doubles given his speed. It's a high contact profile from the left-side of the plate. There's some bail and head start to first base on the swings, but not too concerning. The Pirates could be aggressive with Bae and move him all around the diamond given their glut of middle infield prospects. Bae looks to be a leadoff guy at the keystone or a nice utility player that can play anywhere with quality bat to ball skills. The defense and speed are why I put Bae over Castro on the list.
16. Rodolfo Castro (2B, 45:C1): Castro was added to the 40-man this offseason and hit .242/.298/.456. Sure he isn't going to walk much (around a 6-7 percent walk rate every year) and he will strikeout (26.5 percent in 2019, and a rate that keeps rising) but a middle infielder with power is encouraging. He hits the ball in the air (groundball rates since 2016 of 35, 45, 38, and 43 percent) and FanGraphs notes that 43 percent of his batted balls were greater than 95 mph. Getting into that power consistently will make up for the tradeoff in lower on-base. He comps similar to Jonathan Schoop offensively, who has a career .259/.297/.450 line. Schoop does have 11.4 FRAA for his career compared to Castro, who posted 0 FRAA in 2019 and 5.9 in 2018.
Looking at the swing from 2020 Instructs, we see an open stance with the hands high that Castro brings down to load. There's an average leg kick but he drops the barrel and generates a lot of loft in the swing, which given his profile, allows the power to continue to play.
Castro is a switch hitter, who from 2080 Baseball, looks like this from the right side:
It's a compact stance and swing with an athletic stance, loads the hands and gets through pretty quickly, especially compared to from the left-side. When left-handed, Castro drops the hands lower and takes longer to load compared to the right and it's less "smooth."
The overall swing and miss concern me and looks more like a nice role player who plays at different spots in the field and can hit for some power. There's no history of high average or high on-base, so a low OBP and high ISO player is likely outcome. Castro will be up in 2022 and looks a utility player more than an ever day second baseman because of the swing and miss. I like the hands and his ability to generate loft to allow for the power to play in game.
17. Endy Rodriguez (C, 40+:C1/C2): Rodriguez is a young catching prospect that is rather athletic and a switch hitter. He has hit .276/.389/.452 (140 wRC+) in his minor league career between the DSL and rookie league. He's shown good feel for the barrel and the zone, with a walk rate of 13.2 percent and strikeout rate of 16.5 percent in 265 plate appearances. FanGraphs notes an average exit velocity of 90 mph, an encouraging sign for the soon to be 21 year-old (May), which might make the Pirates more aggressive with him. Here's a video of him homering in the 2019 DSL:
Rodriguez is athletic throughout the swing, utilizes a high leg kick but still times the pitcher well. Gets the hands in a good position to hit, gets through the zone quickly and generates some loft on the swing. This is the only video of the catcher that I can find, but it's a good one. It's a young catcher with a good swing who appears to hit the ball hard, it's a good gamble to take as he was part of the Joe Musgrove trade.
18. Calvin Mitchell (LF, 40+: C1/C2): Mitchell is a left-handed hitting corner outfielder who hit .251/.304/.406 in the FSL (for reference the .155 ISO is much better than the .100 Austin Meadows put up in the FSL, Meadows though comes with a superior hit tool and feel for the zone). Once concern is the lack of walks (6.5 percent) and uptick in strikeouts (28.8 percent) given that Mitchell is a bat first prospect (grading as an average fielder per FRAA).
The swing is super simple and Mitchell generates a lot of loft on it. Using Givarz again for 2020 Instructs, we can see the simpleness:
A slightly open stance with a toe tap, Mitchell loads the hands as stride starts, has a short and quick swing through the zone with an attack angle that generates lots of loft. For a player who stands at just 6'0″ and posted a 86 mph average exit velocity, Mitchell should still be able to hit for average power numbers given the loft he's able to create.
The lack of walks and increase in swing and miss in 2019 give me concern, but there's the stuff to be average starting corner outfielder. Because the defense doesn't stand out and the questions coming off the 2019 season, I think a fourth outfielder role is likely. From Prospects Live, we see the side angle and how simple Mitchell's swing really is:
It's quick and compact with loft. If he cleans up the swing and miss, the hit tool can play up more and provide Mitchell with average hit and average power. Mitchell needs to be added to the 40-man at the end of the year and as a result, I think he ends the season in Triple-A. The biggest key for Mitchell is to either start walking more or cutting down on the swing and miss and sacrificing power for contact but average corner bat seems to be the ceiling here.
19. Mason Martin (1B, 40+:C1/C2): A former 17th round pick from the Pacific Northwest, who has posted an average exit velocity of 91 mph and a max of 109, hit .254/.351/.558 in 2019 (161 wRC+). The biggest problem is the swing and miss (2019: 30.2 percent strikeout rate, 2018: 33.7 percent, 2017: 24.7 percent) and even the players who run that in the MLB (Joey Gallo) posted higher walk rates. The strikeout rate alone makes Martin extremely risky and lowers the ceiling, especially as a first baseman. It's the era of three true outcomes and Martin has run ISO's of .323, .166, and .304 since 2017. That's intriguing and the amount of power that is there is the most in the system. The right-tailed outcome is limited, but an everyday first baseman with a high walk rate and elite power is enough to make you think. After posting -4.7 FRAA in 2018, Martin posted 7.5 FRAA in 2019, with the change to be at least average at first, the prospect status is more intriguing. Let's look at video from MiLB:
Martin starts open with his hands up high and away from the body, drops the hands and has no leg kick. It looks rather stiff, not maintaining athleticism throughout the swing, but he's still able to generate crazy power output. I think the stiffness limits the hit tool – less ability to adjust to a pitch that wasn't expected – but Martin's ceiling isn't dependent on the hit tool, it's all about power and Martin has a ton. Here's a side and back angle:
The bat gets vertical (see The Science of Hitting), and Martin uses his strength to get the ball out of the park. There's a lot of loft in the swing, that combined with stiffness causes an increase in swing and miss, but there's still potential there. The overall ceiling is capped because of the strikeouts (even Gallo is only a 2.5 fWAR player, and Martin isn't Gallo). The potential for a big bopper is there, just a frustrating one to watch. I think this puts Martin more in line with Quad-A thumpers.
20. Max Kranick (RHP, 40+:C1/C2): Kranick is a former overslot 11th rounder from a Pennsylvania high school back in 2016. He had a 3.79 ERA in 109.1 innings in 2019 with a non eye popping 17.3 percent strikeout rate. He's never really missed bats in the minors and has had injuries (shoulder) over the years. However, he's reinvented himself working with Vic Black and a weighted balls program.
What's stood out is the picture of the Rapsodo in the linked article, where Kranick is throwing 98 mph with 2553 RPMs (99 percent efficient). That's a pitch that'll play up in the zone (Bauer Unit of 26.05) and will give the pitch some life to it. Using video that was posted from his hometown news station after being added to the 40-man this offseason, Kranick's arm action does appear to be much shorter.
In 2018 (via 2080 Baseball), Kranick had a long arm action, bring the ball down behind him and was late getting back up to pitch, causing stress on the shoulder.
Perhaps the better look comes from his high school days (Prospect Pipeline):
It takes a while for Kranick to get the arm back up and he has a little wrist curl at the bottom of the arm path. His new motion is much more efficient, which should allow the velocity to sustain and for the arm to remain healthier.
Kranick is a fastball and slider guy it appears, and with the weighted ball training and more efficient arm path, became a more intriguing prospect. 20th might be aggressive, but I'm buying the stock that Kranick is at least now a mid relief option or strike throwing backend guy. He'll likely make his debut in 2022, but the starting pitcher version of Kranick is a lot more interesting now than it was a year ago. Upper 90s, efficient spin, above average Bauer Unit, and an efficient arm path. That's good development and his 2021 will be a year to watch, especially when it comes to his future role as a starter or reliever.
***
The Next Five
These five prospects are ranked in order of just missing the list and are all 40+ (C1/C2) players. They are the reason for the title being called top 25 prospects but given Hayes graduates in 45 plate appearances, roughly a week and half to two weeks into the season, it seemed more simple to rank 20 and then the next five being a "just missed" list.
Michael Burrows (RHP): Burrows was throwing in the mid 90s in a recent bullpen posted by Baseball Performance Center.
Given his 2550 RPM on the fastball and 2800 RPM on the curveball (FanGraphs), Burrows has the potential for two plus pitches. Alex Stumpf of DK Pittsburgh Sports has noted that Burrows spin efficiency has gone up from "75 percent to low 90s." He also talks about the two pitches – fastball and curveball – and how he wants those two to be his main two. A two pitch mix projects as bullpen arm, something that I think will happen with the arm path (video below from Givarz), but one that could be a multiple inning guy. He saw his walk rate jump from 7.8 percent in 2018 to 10.4 percent in 2019, but he does sound like a prospect who has made some improvements over the course of 2020 despite there being no MiLB season. Despite my concerns with the arm action (it is long), Burrows tosses in a nice curveball here.
As I am writing this, Baseball Performance Center posted Burrows throwing 95-97 with a spin of 2700 on the fastball (Bauer Unit of 28) that will really play up in the zone with a curve spinning at 3200 RPM. He projects at two plus pitches and is certainly intriguing arm to continue to watch. It appears Burrows has really put himself in a better position and used the missed 2020 season to continue to develop and get better, and he has.
2. Canaan Smith-Njigba (LF): An outfielder acquired for Taillon, Smith hit .307/.405/.465 in 2019 as a 20 year-old in the Sally while dropping the strikeout rate from 30.4 percent in 2018 to 20.5 percent in 2019. The left-handed bat projects in the corner with power. Using video from MiLB (September 2019) and Prospects Live (March 2019), we see that Smith uses a wider stance and a leg kick and loads the hands before exploding through the zone. The bat speed is there to continue generating power (FanGraphs notes a 109 max mph and 91 mph average with about 50 percent of his batted balls being greater than 95 mph) and to play in the middle of the order. The swing is explosive and he's dropped his hands between March 2019 and September 2019. This is something seen with the Los Angeles Dodgers and is noted in The Science of Hitting. Smith can generate more loft this way and use his power to get the ball out of the park. The swing remains explosive and should allow the outfielder to remain to hit for above average batting averages and above average power (ISO).
3. Jared Jones (RHP): Jones is covered in the draft article (see Gonzales), but he sits in the mid-to-upper 90s and has touched 100 mph per Kiley McDaniel. At 2554 RPM, the fastball has an above average Bauer Unit and can play up in the zone. The curveball and slider have above average and well above average spin rates. He stands at just 6'2″ and 195 pounds with room to fill out more, allowing for sustained velocity throughout a start. The arm action is fast and loose and projects as a starting pitcher. In this video from 2080 Baseball, Jones tries to mix his timing a la Johnny Cueto but shows a fastball with good arm side movement that gets in on RHH.
4. Nick Mears (RHP): Nick Mears made his MLB debut last year and looks like an arm that can pitch late in games. He throws hard, gets good up and down 12-6 action on the curveball and can pitch up in the zone with the heater. He has a career 37.2 percent strikeout rate in 50.2 innings in the minor leagues. I am confident that, at the minimum Mears is a mid relief arm, but is likely the best relief pitcher in the Pirates system.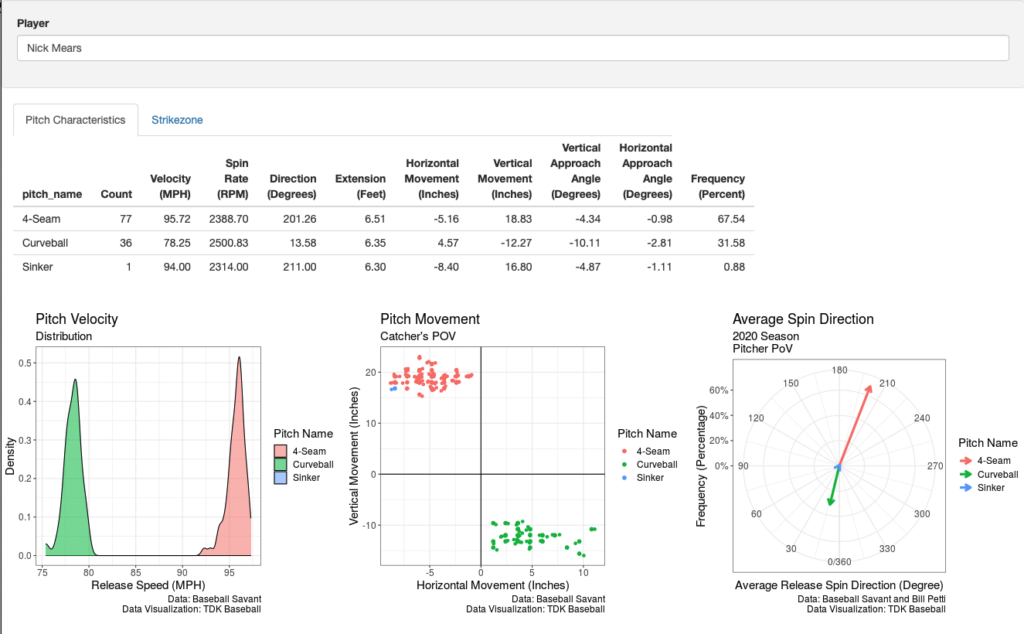 He topped out at 97.3 mph in the MLB but the fastball shows nice life given the spin that allows it to play up in the zone, like this fastball past Luis Urias for a swinging strike three.
5. Alexander Mojica (3B): A 2018 J2 signing who hit .351/.468/.580 and walked (17.0 percent) more than he struckout (15.6 percent) in the DSL in 2019. He's just 18 but already looks filled out (FanGraphs has him at 6'1″ and 195 pounds) but looking at the video Givarz posted from Instructs, Mojica is in the maintain the frame and not grow into it phase. This causes him to be at a corner, with their being concern it'll end up being first rather than third.
Mojica strikes out twice in the two plate appearances, one on a check swing and then one on being out in front of a slider (previous pitch was a slider taken for a strike). This is much older competition than Mojica has faced. But what we see is a simple setup that allows him to time the pitcher with a high leg kick and drops the hands to load them. There's not a lot of video of Mojica, but this simple swing and should continue to play. The upside comes with sticking at third (where I haven't been able to come across any video so will defer those other services such as Baseball America et al. on the glove) but he should continue to hit. FanGraphs has an average exit velocity of 89 mph, similar to Nolasco who I have at 12 (who has even less video and was just in the DSL). The disconnect comes from a power hitting outfielder compared to an infielder and I will favor the outfielder, along with having some information sourced to me about Nolasco.
Other Notable Prospects
Not in order outside of proximity to the MLB, but other notable prospects include Wil Crowe, a major league ready right-handed pitcher with the below pitch data. He sits in the lower 90s with his four-seam and sinker and mixes in a changeup and slider. I think ideally the slider shows more depth and acts a bit cutterish. Changing the the spin direction would also be beneficial. STEAMER projects a 5.59 ERA.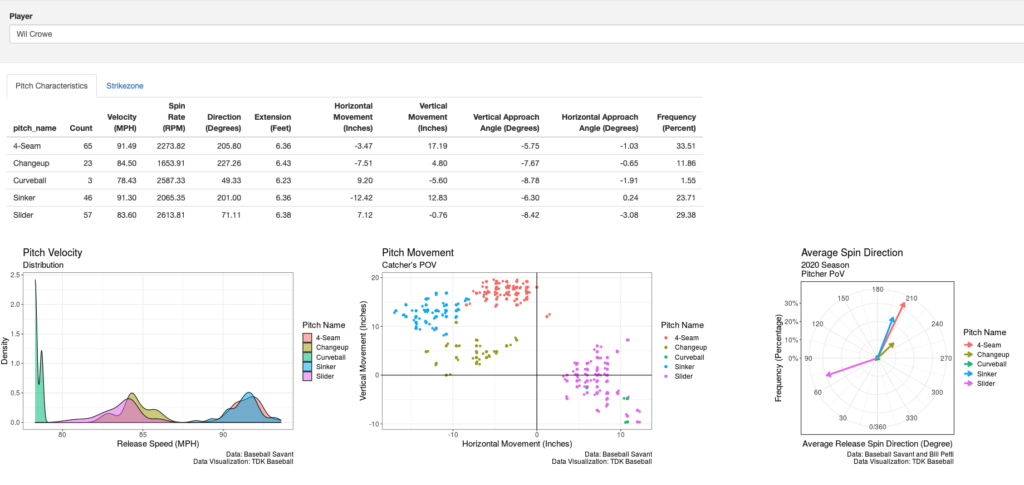 In terms of fourth outfielder looks, Jared Oliva is an option. He hit .277/.352/.398 (123 wRC+) in Double-A Altoona in 2019 (while posting an 8.3 percent walk rate and 20.5 percent strikeout rate). After posting -7.6 FRAA in 2018 in High-A Bradenton, Oliva rebounded a bit and posted -1.3 FRAA in 2019. I think he can profile at any position in the outfield, perfect for a fourth outfield option. He's hit for consistent contact but has lacked power, with STEAMER projecting a .253/.313/.377 line with an 82 wRC+. Considering the defense isn't a clear cut 70 or 80, Oliva presents a good defender who will make contact with the ball and provides speed coming off the bench. His swing and setup don't stand out as the change to hit for much more than average power and he's run pretty low ISO's throughout his MiLB career. It's rather similar to his former Arizona Wildcat and current Pirates teammate Kevin Newman, just not as good of a feel for the bat and hit tool (Newman continuously runs around a 10 percent strikeout rate and always puts the ball in play). Oliva's hands are more out in front and he has a bigger leg kick than Newman, but the two are similar and there's not been much game power in there for either player. As a result, I think Oliva is a useful fourth outfielder type.
Jose Soriano was a rule five pick selection this year and projects to be a bullpen arm. He posted a 26.6 percent strikeout rate in 2019 after just a 19.3 percent rate in 2016-2018. He's coming off Tommy John surgery and won't be back until August or September. FanGraphs notes he was throwing 99 as a starter pre surgery, so Soriano looks to be a back of the pen prospect. Luis Oviedo was the best pitching prospect in the rule five draft, and was apparently 97-98 mph in the Winter League. Ben Cherington mentioned he would be a swing man to start, which gives the Pirates the chance to evaluate if he can move into a rotational role down the line. Giving his past (unstable 2019 velocity), you project Oviedo more as a relief pitcher that can continue to be a swing man.
Travis MacGregor had Tommy John surgery in 2018 and he missed all of 2019, wasn't in summer camp in Altoona though he was in Florida for Instructional League. Before needing the elbow surgery, the firmer 2016 second rounder posted a 27.1 percent strikeout rate and 3.25 ERA in West Virginia. I like MacGregor, but he hasn't pitched in a live game in two years and was not placed on the 40-man this offseason. 2021 is a big season for him and his backend of the rotation (four or five starter) potential. Here's a 2018 curveball via the Baseball Census that projects average at best:
Santiago Florez is another right-handed pitcher that wasn't added to the 40-man this past winter and hasn't pitched above rookie ball. FanGraphs notes the spin on his curve is 2800 RPM and he only turns 21 in May. The right-hander sits in the mid 90s but has a maxed out 6'5″ and 222 pound frame. I think you keep developing as a starter given the age and fastball/curveball but there's relief risk and his timeframe is ticking with performance and risk of being selected in rule five. I don't really like the long arm action, putting more relief risk in the profile, but the fastball shows good downward plane to generate ground balls, which he induced two from Rutschman in Instructs (Givarz YouTube), but he also missed locations on both the fastball and curve, leaving both to be hitable. Despite not pitching above rookie ball, I have him ahead of Triolo because of the relief pitcher profile that should get him to the majors faster.
Jared Triolo is a 2019 second rounder who projects as a utility player. He hit .317/.406/.447 at the University of Houston and just .239/.314/.389 in his first season of pro ball. More limited upside bat that lacks power (just a .147 ISO on the Cape after his sophomore year of college), but a utility player who at the worst provides upper minor league depth in case of injury is still valuable. Omar Cruz, acquired for Joe Musgrove, shows some depth on what looks to be an 1-7 curveball with big time hump (2020 video from FanGraphs and 2018 from Chris Kusiolek). He's now 22, has a small frame (5'10" and 200 pounds), needs to be added to the 40-man this offseason, but has posted a 32.5 percent strikeout rate and 9.9 percent walk rate in 98.1 innings. There's enough interesting parts here.
Roansy Contreras is a right-handed pitcher that was traded for Jameson Taillon. He looks to have good command (6.7 percent walk rate in 2019) with increasing strikeout stuff (21.1 percent strikeout rate in 2019) despite an increase of 69 innings (going from 63.1 to 132.1). Per FanGraphs, he throws in the low-to-mid 90s and has average curveball spin. It's a mid/back rotation profile (not traditional frame either, just 6'0″ and 175 pounds, so more strength could allow the velo to play longer in games). In video from YESNetwork heading into 2019, it looks like Contreras likes to be working down in the zone, but he did go upstairs for a swing and miss on the heater. His breaking ball looks a little slurvy to me too from the short video.
At first I was worried about the arm action and think he'd benefit from shortening up the path (see elbow spiraling) to become more efficient and maintain velocity. From the side angle of YESNetwork's 2020 profile on Contreras, I am less concerned. It's not as long and loopy as I initially thought (importance of camera angle and problems of scouting without being near a field), but given the shorter frame, elbow spiraling could continue to take stress off the elbow and allow him to continue maintaining velocity over the course of a start and season.
I touched on Nick Garcia in the draft article (linked with Gonzales blurb), but it's a 6'4″ and 215 pound profile that is athletic. Fastball is low-to-mid 90s with above average spin (2400 RPM) with the curve spinning at 2500 RPM. Could look to mirror better based on spin axis (220º on FB and 60º on CB). Slider shows good depth at 178º spin axis despite the below average spin rate. It's an old school over-the-top windup with easy and repeatable mechanics with a fastball that played up. In this video from The Prospect Pipeline, Garcia's control leaves room to develop but can project as at least average given the repeatability of the mechanics and being a transition arm. Develop as mid-rotation starter but has backend multi-relief stuff.
Sammy Siani and Sergio Campana are both young outfielders, both with good speed. Siani is a former 2019 draft pick who hit .241/.372/.308 and projects as more of a leadoff guy, though he's working with Chez Angeloni to add more power. Campana was a 2018 J2 signing, who FanGraphs gives an 80 grade speed to, and despite the 80 mph average exit velocity, the max was 100 at 17 years old. He hit .281/.362/.374 in the DSL and does show a frame to have at least average power. Here's Siani from 2020 Instructs (again from Givarz) and Campana as an International Free Agent from Baseball America.
Maikel Escotto is an 18-year old shortstop who hit .315/.429/.552 as a 17 year-old in the DSL while generating an 89 mph average exit velocity and 105 mph max (per FanGraphs). I'm probably being light here, because the profile and swing look to be a player with above average power and the ability to stick at a middle infield spot. Good chance that Escotto should be top 15, and likely will be after the year, based on being a power hitting shortstop. He posted the below video to his Instagram.
Solomon Maguire and Shalin Polanco are both young center field prospects, with Maguire signing for $500K out of Australia and Polanco $2.35M from the Dominican Republic. Using video from Mark Maguire's YouTube and Givarz, we see that Maguire uses a leg kick to time his swing, starting with an open stance and hands up higher by the head with a slight load. He was able to drop the bat head down on lower pitches and still able to get it through the zone (note, I am not sure how good the competition is in Australia or on the circuit he played). There's some good feel to hit and has some loft to hit the ball in the air. In Instructs, it was the best competition he's faced and a wide age gap. He looked silly against a left-hander that is three years older but I think he does a good job recognizing pitches. The right-hander generates is 24 year-old Ruben Garcia, who Maguire is able to make contact against. I think you project forward and eventually get to an average big leaguer projection in a few years. I don't have much, if anything, to add about Polanco but he was a big time signing in this past International class and Baseball America notes a "compact swing and a chance to grow into power once he fills out."
***
The Pittsburgh Pirates have added a lot to their farm system over the course of the last calendar year, and with Ke'Bryan Hayes set to graduate about two weeks into the new season, the Pirates need to continue to develop talent. Priester is clearly a name on the rise and players such as Head, Malone, Peguero, and Escotto look to be breakout candidates. By the end of the season, Swaggerty and Bolton should have joined Hayes full time, with Yajure being potentially there as well. The club is adding a lot of depth to their pitching pipeline, which given the high attrition rate and cost in the open market, could be an efficient allocation of resources.
All the video from Florida Instructs comes from Steve Givarz, who works for Baseball Prospectus. I also had to rely on video of highlights, different sources as amateurs, Eric Longenhagen and Baseball America, and other sources. Outside of a few sourced information, data points (such as pitcher velocity, exit velocity, etc.) come from FanGraphs and Baseball America, two sites I recommend subscribing to. Hopefully with 2021 and more vaccines available and people able to return to the park in a safe manner, I'll be able to get better (and in person) looks at players that come through the area.