Scouting: Pirates Trade Josh Bell to Nationals
On Christmas Eve, the Pirates and Washington Nationals came to a deal with the Pirates shipping off first baseman Josh Bell (28) for pitchers Wil Crowe (26) and Eddy Yean (19.5). For the Nationals, the club needed a first baseman as ZiPS has them with no real option in 2021. The Pirates need to add to their collection of talent, looking to start competing in 2023 and beyond with their next wave of talent.
Looking from the Nationals perspective, let's look at Josh Bell. Using the website's hitter stats tab, Bell was a well below average hitter last season, posting an estimated -8.4 runs above average after posting an astounding 2019, where he ranked 21st in runs at +34.260. It looked as if Bell, who was more middling and an average bat, was turning a corner.

Instead of just looking at the expected stats, here's a look at Baseball Prospectus' Deserved Runs Created (DRC+) metric at 10,000 simulations: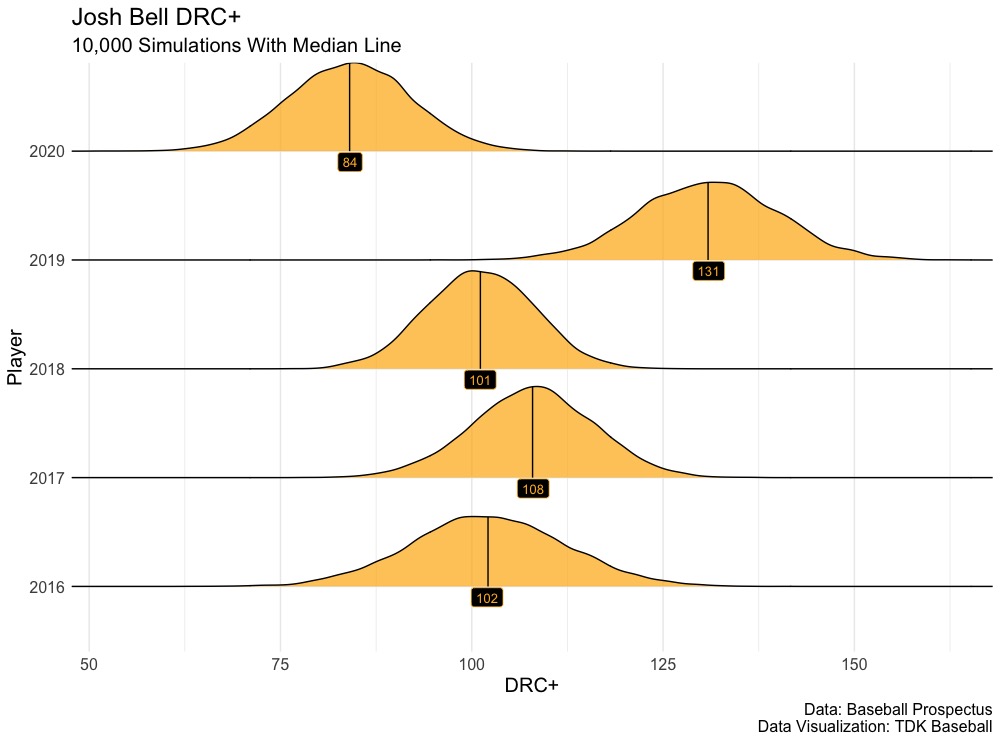 In 2020, Bell was confidently below average after being confidently above average in 2019 and the three proceeding years there being more of a question on just how good Bell was offensively, averaging out to be just an average bat.
The question, though, is why did Bell fall from a 131 DRC+ to a 84 DRC+? His strikeout rate jumped from 19.2 percent to 26.5 percent, despite his o-swing percentage remaining around 26 percent. His inside the zone swing rate (z-swing) went from 75.3 percent to 69.6 percent, but that aligns with his 2016-2018 numbers. The kicker is the career high 13.9 percent swinging strike rate, a number that has increased throughout his career. There's a tradeoff in power for swinging strikes, but Bell produced the second lowest ISO of his career.
Part of this could be that Bell saw more breaking pitches than before in his career and less fastballs. Bell hit .220/.256/.415 against offspeed and .274/.309/.590 off breaking in 2019 but in 2020 the lines dropped to .132/.187/.158 and .174/.120/.239.

More breaking balls and offspeed pitches could explain part of it, exploiting Bell's weaknesses especially compared to fastballs, but let's look at video. While Bell is a known tinkerer, his approach and the way he prepares at the plate was mostly the throughout the 2019 season but he began retinkering in 2020. Let's look at a changeup in the same spot in 2019 and 2020:
On the left (2019), Bell hits a 95.2 mph line drive to the warning track in right field where on the right, Bell flails and misses the changeup running outside the zone. In the 2019 video, Bell had some pre swing movement but was steady looking to attack. In 2020, Bell is more fidgety and casts his arms out, remaining flat footed as the back heel never really lifts off the ground. Looking at the swing itself, Bell goes down and drives the ball in 2019 despite looking to be fooled on the changeup whereas 2020 has more of an off balanced flat footed swing. Additionally, the added movement in 2020 could lead to timing problems. The late 2019 swing had issues but the body control was still there, whereas in 2020, the off balanced swing led Bell to trying to attack the ball with nothing supporting the lower frame and just an all arms swing.
Now let's look at Bell vs a fastball from May 2019:
Bell looks stiff but the swing is better and he doesn't fly open like he did on the changeups (one of the best pitches in the sport) and hits a double. The breaking pitches, including the slider from mid 2019, also saw Bell's flaws, as his feet slide because he strides too close to the plate and leaving him closed off. At this point, Bell is off balanced and unable to make an adjustment on the swing.
I've recreated Baseball Savant's radial chart for batters using Jim Albert's hit probability model using this hit probability instead of the events as colors and illustrating the outcome (hit or out) by the shape. While Bell's exit velocity remained roughly the same, Bell's ability to continuously barrel the ball like he did in 2019 disappeared. The optimal contact point (launch angle) wasn't being met and because of the offbalanced swing, Bell got on top of the ball and hit groundballs at a career high 55.7 percent rate.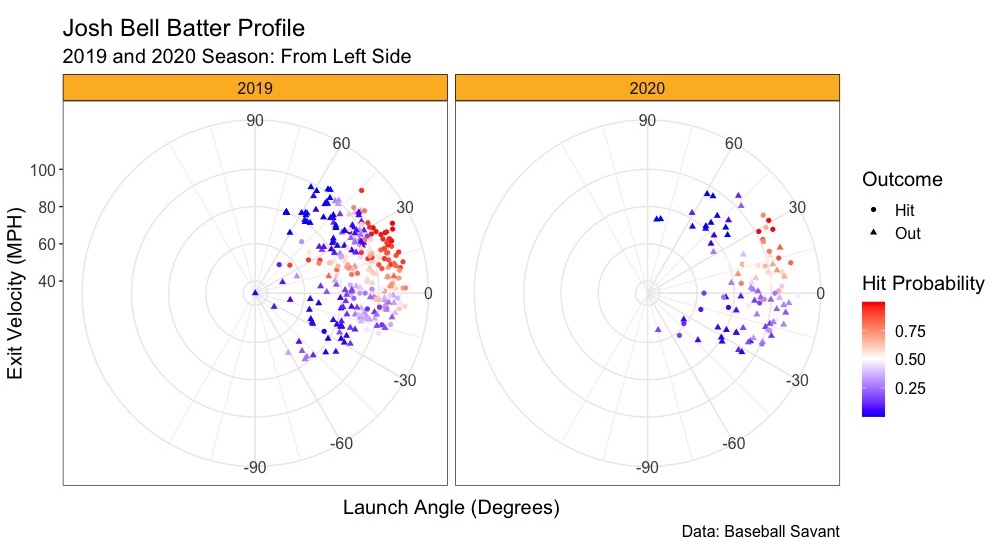 The Nationals will look to get Bell back to being consistent. He's worked hard to be more flexible and seems to care about his craft. Adjusting the swing so his hips don't fly open when he's fooled could be a minor tweak that gets Bell back to performing. He'll likely see his dose of breaking balls and offspeed again in 2021 and so some adjustments are needed to remain balanced. STEAMER projects Bell at .259/.358/.475 and 115 wRC+ but because of his defensive limitations just 1.0 fWAR. The bat should likely be average going forward and his right tailed distribution could pay off for the Nationals if they can tweak Bell to be more balanced and consistent. Getting this type of player for a depth arm and prospect that doesn't fit in the now, makes plenty of sense.
***
On the flip side, the Pirates added more talent to the farm system. Entering 2020, the club had a middling farm looking to be in the 11-13 range (FanGraphs was high at number four and Baseball America low at 23). For the club to continuously compete, the Pirates need more, especially with the team being aided with their strong DSL classes coming through. With Hayes soon to be graduation, adding talent matters.
The first pitcher the Pirates acquired is Wil Crowe, a current MLB ready arm who is 26-years-old and is likely going to start in the team's opening day rotation when Joe Musgrove, Steven Brault, or both are traded. Using the pitcher's tab, we see the following from Crowe's first taste in the big leagues:


Crowe's fastball is average in velocity but a tich below average, slider spins at an above average rate but looks to not always have much depth and often can come across looking like a cutter; a seemingly inconsistent pitch. It's an average mix and he had Tommy John in 2015 and fought COVID in 2020. Every report from Baseball America, FanGraphs, ESPN, and Keith Law have Crowe as a backend number five starter with relief risk. Crowe won't move the needle much for the Pirates but the team does need guys to pitch innings for them until they're ready to compete. Instead of a known veteran, having a cheap backend starter who might flash more potential if things fall right is a better use of resources for a club. It's an easy delivery that he repeats; here's an overlay of a slider and fastball to Dansby Swanson.
STEAMER projects a 5.28 ERA in 2020, which for a contending club, he just needs to stay healthy and eat innings. FanGrpahs has him at a 45 (a C1) at the end of 2020; a five starter or mid relief pitcher. Maybe he can develop into a three if all goes right, but it's player that will slide into the rotation come April. There's a chance he falls to a 40+ in the 2021 update, but the overall outlook is the same: a valuable pitcher while the club is bad who is likely at best a relief pitcher when the club is competing.
The Pirates also received Eddy Yean, a 2017 J2 signing. The 2020 Baseball America report reads, "Yean's a physical athlete with a power pitcher's body. He has a clean delivery, and the ball jumps out of his hand. He has electric stuff and one of the highest ceilings among pitchers in the system. He has increased the depth on his slider, which is a swing-and-miss pitch for him. Yean is also improving the feel of his changeup."
The 2021 report, however, reads, "Yean is a big, powerful pitcher who is aggressive and still growing. He has an explosive fastball that sits in the mid 90s and touches 97 mph with late life… slider is a little slurvy at this point but gets swings and misses and shows above-average potential… His changeup is improving as well and could be an average pitch in time. Yean has a clean, three-quarters arm slot and a feel for making adjustments."
The 19 year old has already improved his velocity, and at instructs, there was this report (note that teams will artificially hype their prospects): "He looks even bigger and more powerful than he did last year," Scialabba said about Yean. "The other day he was throwing 96-97 mph power sinkers and four-seamers up, with a hard 86-88 mph slider and a changeup he can throw for strikes. If he had been coming out of the Draft this year, there weren't many guys who look like him."
In the 2020 FanGraphs report, Eric Longenhagen wrote, "He was targeted by sellers at the deadline and has mid-rotation upside" and Kiley McDaniel at ESPN said, "there's some relief risk, but he would have gone in the top two rounds if he had been born in the U.S." In March, Keith Law added, "The Nats have said every team they talked to was asking about him at the deadline this summer".
Yean is a prospect with helium who hasn't pitched much at the Major League level. But the reports are that right handed pitcher is athletic, and it's time to sell jeans. Discounting for the attrition rate of pitchers, relief risk, and proximity to the majors, FanGraphs had Yean as a 40+ (C2) at the end of 2020. In their 2021 update, I suspect Yean will move to the 45 as Crowe slides to a 40+.
In the end, the Pirates got around $7 million in value with a pitcher in Crowe who slides in now and a pitcher in Yean who has fatter tails and fits the overall competitive timeline. The Pirates will likely make a handful of more trades between now and Opening Day to continue adding to the farm.