Roster Construction Theory: Pittsburgh Pirates Rebuild
The Pittsburgh Pirates made the playoffs every year between 2013-2015 before struggling in 2016 and 2017 for various different reasons between injury and regression in performance. The club surprisingly was only seven games behind the Cubs for the division and four games behind the Diamondbacks in the wild card heading into the 2018 trade deadline. The team added Keone Kela and Chris Archer and the trades appear to not have worked out on an aggregate level. Kela's had injury issues, Archer's stuff didn't return, command got worse, had his own injury problems, and the players the Pirates traded away reached their right tailed outcomes.
Sherten Apostel looks to be a corner infielder with the ability to hit and hit for some power that FanGraphs ended 2020 with a 45 (C1/really low B2) grade on but an argument could be seen that he's at least an average regular, Austin Meadows looks to be at worst a 2-3 win player and a league average corner outfielder, Tyler Glasnow looks to be a 55 or 60 (lower B1 or higher B2) despite being more of a 120-130 innings starter and Shane Baz is a top 100 prospect, but does have reliever risk where he would still be a 50 (B2) with potential to be a higher 60 (B1) if can remain a starter. The stuff is good but the command is questionable for Baz. The Pirates traded valuable prospects and "went for it" and while it had lasting effects on the organization, I am usually a proponent of trading prospects when your team is in contention as you can see on the site here, here and here.
However, that should come with knowing where you're at on the win cycle. A team shouldn't sell off valuable players that project highly to contend for a second wild card as sustained success is the goal of every team and the best way to have that is to keep quality players that are on below market deals. These trades swapped prospects for known players on below market deals where all six players had risks of different kinds. Kela and Archer were under control through at least 2020, giving 2.5 seasons in which the Pirates would have a backend reliever and quality starter for below market rates. The trades didn't work and as such the feedback loop needs examined to understand the flaws in the process be it bad scouting, misinterpreting the model, player development miscues, etc. This article doesn't want to focus on that, instead I want to focus on roster construction, especially in the midst of a rebuild.
The Pirates have traded away Starling Marte, Josh Bell, Joe Musgrove and now Jameson Taillon over the last 12 months while signing Po-Yu Chen, Solomon Maguire and Shalin Polanco as the club has added depth to the system. Looking at FanGraphs The Board's rankings, we can get the following pre season farm looks:
The Pirates since opening day have lost prospects either via release or graduation (note, I am including Kevin Kramer as the Pirates outrighted him off the 40 but he does remain with the organization and serves upper minor league utility depth and that JT Brubaker went from a 40 to 40+ by years end) but have also added four players via the draft, two via international free agency, and ten via trade that will go on The Board: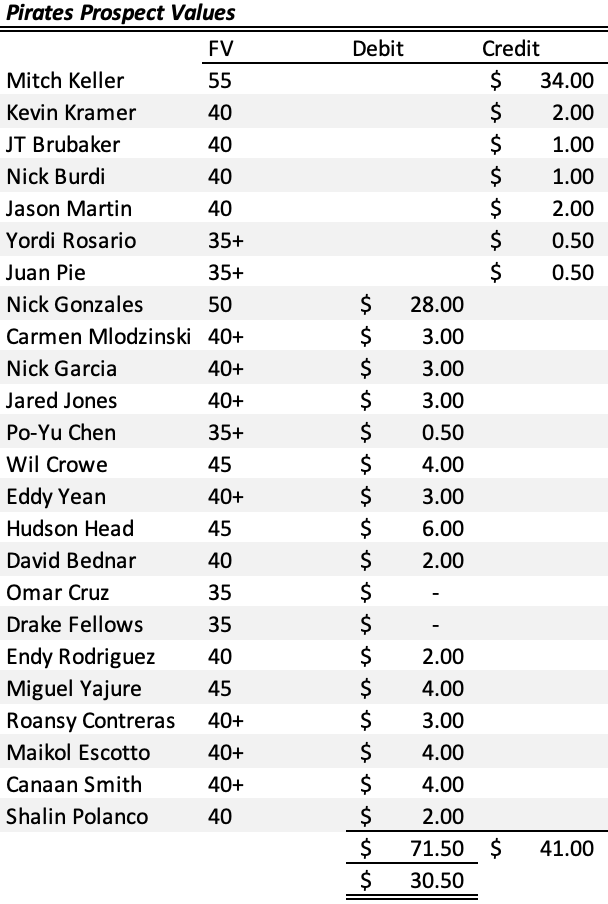 The Pirates have added at least $30.5M to the farm system with arguments to be made that Yean is a 45, Head is a 50, Cruz is a 35+, Rodriguez is a 45, and Yajure is a 50. This gives the Pirates $75 million to their farm since opening day but in fairness of arguments, say the Pirates lost a 45 in Brubaker putting the club back at $72 million. We're fairly confident in the Pirates adding somewhere between $30-$75 million in the farm since opening day and will add more as they pick 1.1. I left a comment on Eric Longenhagen's writeup of the Taillon trade, saying the following (apologies to the length):
"Steve Williams became the director of pro scouting for the Pirates before 2018 and that's when it seems the Pirates started targeting certain guys before they fully breakout with the Luplow/Moroff trade for Mendoza/Thomas/Gonzalez (though they did acquire Cruz the summer before). Under Cherington it appears they're going more towards the betting on certain traits and characteristics with scouting and analyzing data on players more far away.

Marte trade: Peguero and Malone where Peguero despite already being a 50 only had 1.5 years state side and with games in 2020 had a good path to being bumped to a 55. Malone only 8 pro innings. Bell trade: Yean is projectable and Eric mentioned that in 2019 was drawing interest by sellers. Musgrove trade: Head posting solid exit velo's and was hitting in pro ball with "remarkable bat control." Rodriguez is a good athlete and "we have him valued where we had Rafael Marchan and Gabriel Moreno at the same stage", who both are now fringe top 100 guys. Taillon trade: Yajure looks to be trending up and could be another back top 100. Smith-Njigba and Escotto were on Eric's 2021 picks to click.

The club has added already a top 100 (Peguero) and 7 others who are trending upwards on the lists. There's an inherited risk given the ages and distance to the majors but it's clear they're targeting players with skillsets that they cannot obtain in free agency because of a financial constraint and players who once pop become more costly in trades, and thus a team like the Pirates would now be priced out of the market. Going for traits of prospects on verge of breakout but not just there yet is a way to get those fatter tails into a developmental pipeline, especially as you need some to hit their right tailed outcomes to compete with a larger constraint.

Their J2 classes (especially 2018) look to be stronger than in the past with more upside in Cruz, Chen, Maguire for 2019 J2 and Polanco in 2021 international. This will eventually lead to a 40 man crunch, with what I've counted (using The Board and roster resource as guys who need added Dec 21 or be risked in rule five) as: Omar Cruz, Travis Swaggerty, Liover Peguero, Tahnaj Thomas, Cody Bolton, Eddy Yean, Mason Martin, Canaan Smith, and Cal Mitchell.

With maybe guys such as Jennings, Burrows, MacGregor, and Florez being options. They're at a position in time where removing 9 or 10 from the 40 isn't too hard and it will likely only end up around 7 adds to the 40 I imagine. It's the following year with Drake Fellows, Sergio Campana, Alexander Mojica, Ji-Hwan Bae, Endy Rodriguez, and Rodolfo Nolasco need to be added. Not all will hit and certainly full seasons in 2021 and 2022 will help decide the futures of these prospects but over the next two years, the Pirates will have more moves they need to make.

The club seemed directionless for a bit but have been acquiring players with skillsets that not only creates depth in the system but creates players with loftier ceilings. Transitioning and getting players to hit on their ceilings and move the floor up is the next challenge. Can't win without stars and the Pirates certainly are betting on their next crop to move into these higher tiers. It's certainly a risky approach targeting players with more variability (the lower minor leaguers before they break out) but it appears to be the best way for the Pirates to add higher ceiling talent to a system that will constantly need to produce quality MLB players to have true sustained success as they won't compete in an open market for the skillsets."

My comment left on FanGraphs
Not all of these prospects are going to hit and the upcoming 2021 season will decide who needs to be protected and who doesn't. MacGregor was coming off Tommy John and he, along with Florez, were further away from the big leagues making the probability that a team selects one of them low. It was a calculated risk but the club kept both players and they will once again be rule five eligible next winter. Given the volume of trades, however, the Pirates could require a 40 man roster crunch at some point. Let's use FanGraphs The Board to calculate the prospect value in each rule five class with our conservative estimates (just keeping the end of 2020 FV value) and one that is more aggressive (the one with adjustments to get to $72 million added but also adjusting Quinn Priester to a 50 and Travis Swaggerty down to a 45+):
| Rule Five Class | Count of Players | Conservative Value | Aggressive Value |
| --- | --- | --- | --- |
| 2021 | 16 | $86.0M | $87.0M |
| 2022 | 14 | $26.5M | $28.5M |
| 2023 | 9 | $70.0M | $92.0M |
Note that keeping Swaggerty as a 50 puts the 2021 rule five class (need to be added before 2022 season) as $106.0M and the aggressive is $107.0M and keeping Priester as a 45+ puts the 2023 conservative as $55M and the aggressive at $77 million. Given Priester's fast rise, I do expect he'll be bumped to at least a 50 and perhaps a 55 by years end. But what is important is that 30 number; the Pirates farm currently has 30 prospects that are at least a 35+ that needed to be added to the 40 man by the start of the 2023 season or else risk them to rule five. The Pirates currently have a roster set up that allows them to experiment and 25 of the players on the 40 are pitchers. The Pirates won't keep all 30 (that would be 75 percent of their roster) but it is set up to allow for younger players to see time. Let's go through 2021 and 2022 rule five classes with the conservative value approach but with the changes to Priester and Swaggerty in place.
***
Let's first look at the players that are on FanGraphs end of 2020 prospect list that will need to be protected or be risked in rule five (utilizing roster resource for the rule five dates):
Yerry De Los Santos' 2019 was his first healthy year since 2015 and looks to be a mid rotation bullpen arm. Perhaps that speed lights him past high-a and he ends in Double-A but that's not a prospect that seems likely to be kept; a mid relief upside for a team that has a plethora of relievers. MacGregor represents rotation depth but was already passed over in rule five coming off Tommy John. I personally think he's a sleeper prospect in the system, posting a 27.1 percent strikeout rate in 2018 before his injury and was sitting more in the mid 90s. He's a former second round pick so there's upside, but unless he really shows his stuff plays in 2021, he's likely unprotected again. Lolo Sanchez was also passed over in rule five and Longenhagen noted his exit velo's were only 82 mph in 2019 Low-A. He's fast and can hit for contact but not a prospect you lose sleep over, especially since Double-A is where he should end 2021, not likely a team would keep him for a full season.
Florez is more interesting but is likely a relief pitcher and he too was passed over in 2020 rule five draft. He sits mid 90s and can be a three pitch mix out of the pen and hasn't pitched above rookie ball. If he remains a starter he likely ends in either A or High A ball but a reliever maybe Double-A. He again likely won't be protected on the 40-man. Bolton has mid rotation upside and I suspect we see him in the MLB at some point this year. Longenhagen called Wilkin Ramos a 2020 breakout candidate but he has yet to pitch above rookie ball. That's a prospect that likely won't be MLB ready and stick on a 26-man roster all year so he would be unprotected. Swaggerty looks like he could be up in 2021 at some point and is a no brainer, same with Peguero who has an ETA of 2023 but has viable paths in 2022. Both will be kept.
Thomas is an athletic arm with good projection that, if left off the 40, a team likely tries to squeak on their 26-man as a relief pitcher at the least. This another clear player that will be added despite likely ending his 2021 in High-A. Jennings is a high spin guy that throws strikes but hasn't really had success. Unless he really breaks out in 2021, Jennings isn't a candidate to be protected or taken in rule five. Burrows is another high spin guy and Alex Stumpf of DK Pittsburgh Sports wrote about him and Cherington mentioned him as a player who took a step forward. This one is more questionable and could wind up more so coming down to his 2021 results. Yean is a player acquired for Bell who is likely an add given not just the trade but the noted interest in him by teams in 2019. He's a prospect with helium that certainly would be a risk of being selected and bullpenned for the 2022 season. Cal Mitchell projects to be an average starter with his average hit tool and average power but is destined for a corner. He was in High-A in 2019 likely being in Double-A in 2020, so him ending 2021 in Triple-A seems like a fair bet and thus a no doubt add. Canaan Smith see Cal Mitchell but add that he was part of the Taillon trade.
Mason Martin has a ton of power but a lot of swing and miss. That's a risky profile but three true outcomes is how the game is trending and he should be MLB ready for 2022 and ending 2021 in Triple-A. That's an obvious addition. Cruz was part of the Musgrove deal and is a command lefty who could use another breaking ball. There's a backend rotation upside and the fact he's left-handed probably allows him to be kept. This leaves the Pirates with nine adds in Omar Cruz, Travis Swaggerty, Liover Peguero, Tahnaj Thomas, Cody Bolton, Eddy Yean, Mason Martin, Canaan Smith, and Cal Mitchell with Michael Burrows being a maybe.
Jose Soriano will be placed on the 60-day in spring training but will need added back at some point in August when he returns, leaving the Pirates with about 10-11 spots they need to open up, though it likely will come in less by attrition, be it health or development. The Red Sox protected seven last year and the Pirates likely need at least that. However, their roster is suitable for that. Let's look at the players on the 40-man that can be moved off for the 2022 season, one that appears will be year three of the rebuild, utilizing Ethan Hullihen's Pirates spreadsheet:
There will likely be changed by opening day with players added on one year deals and players moved to the 60 but any player added on a one year is fungible as they will come off. Starting with pitchers certainly kept on the 40-man at the end of 2021: David Bednar, JT Brubaker, Blake Cederlind, Roansy Contreras, Wil Crowe, Geoff Hartlieb, Sam Howard, Mitch Keller, Max Kranick, Nick Mears, Luis Oviedo, Cody Ponce, Jose Soriano, and Miguel Yajure (14 arms). Given the state of the Pirates roster, Oviedo and Soriano can be kept all year even if they struggle, it's a developmental year for the club but if no progress is made, the two can be returned to their clubs. Howard is left-handed but that decision really can come down between him and Davis. One of Brault and Kuhl is likely to be traded as it has come out teams are interested in them (where Brault is likely cheaper than Kuhl). Richard Rodriguez and Chris Stratton are two more likely trade candidates to be dealt. Let's split the difference and say two are traded leaving 16 arms on the 40-man.
This leaves seven current pitchers where Feliz is a non-tender candidate given his lack of success and no options left, and Crick is a non-tender as well because of the velocity concerns. Bashlor, who we are assuming uses his last option in 2021, becomes expendable given he'd have to start in the majors. The same can be said for Davis, who remember, we're picking between him or Howard but Howard will have an option remaining thus making him more likely. Fulmer has no more options, is arbitration eligible and has not had much success leaving him as a non-tender candidate as well. Poppen is out of options (he has one left but expect it to be used in 2021) and is likely not much more than a middle reliever. Edgar Santana has good stuff but has missed two years with Tommy John and a steroid suspension, likely burning an option this year, but having one remaining helps his case.
The way the Pirates current 40-man is constructed allows the club to run out arms and see which ones stick and should be kept around for 2022. With no options left, we'll have Bashlor, Davis, Feliz, Fulmer, and Poppen come off, putting the projected 40-man at 18 pitchers and opening up seven spots where we are projecting four-to-five more arms to be added. Two more spots can be opened up by trading away Brault/Kuhl and Rodriguez/Stratton.
If we look at the hitters, Stallings and Perez are easy keeps given the lack of catching depth and to replace them, a catcher would need to be added to the 40-man leaving a net difference of 0. Rodolfo Castro was added in the offseason so he stays. Cruz likely debuts in 2021 and is a top 100 prospect. Phillip Evans is more of a question mark but given the two options and need for depth and he's not arbitration eligible. It's safe to assume that Frazier will be traded by years end and Gonzalez will be non-tendered. Hayes is the future of the team and is an auto keep. Moran becomes more tricky as he is a trade candidate in the offseason; given when players need to be added to 40-man by, Moran will be kept but his spot opens up for rule five class 2023. Newman and Tucker are both cheap and one is likely gone for the 2023 class but are kept for the 2022 class. Oliva projects as a fourth outfielder and is cheap depth with what will be two options. Alford is in a show me year and if he gets hurt and misses an extended period of time or fails to produce, that's an easy non tender. Gregory Polanco likely gets his option declined with Swaggerty and Mitchell as depth. With our hitters, we removed Frazier, Gonzalez, and Polanco from the 2021 40-man roster.
This leaves the following 2022 projected 40-man roster (I've decided to move Kuhl and Stratton based on years of control but again, they are fungible and can be replaced with Brault or Rodriguez, though a Kuhl trade is expected before the start of the 2022 season given he is a free agent following the conclusion of the season):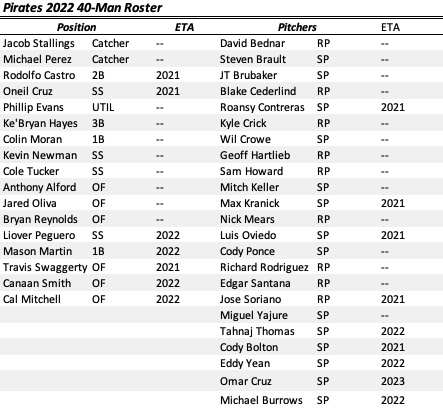 This gives a year end 26-man roster of: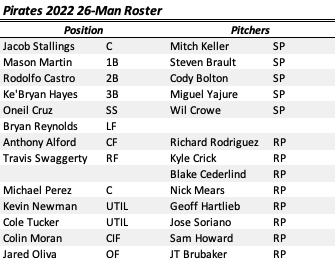 We're assuming no outside additions, but what 2022 offers is the opportunity to continue to evaluate Alford and determine if he's anything more than a role player. Can evaluate if Martin and Castro project to be quality starters or a role player going forward, if Cruz needs to be moved off SS, and if Swaggerty is a long term starter (will the bat play?). Newman will be arbitration two post 2022 and Cole Tucker will be arbitration eligible for the first time after the year. The 2022 season allows a valuation of which to keep as a backup infielder if neither develops as an average starter in 2021. On the pitcher side, Bolton, Yajure and Crowe (or Kranick) get looks as starters whereas the bullpen arms continue to get examined. Select the best crop of players for 2023, a season in which Peguero is ready to take over on an every day basis at one of the middle infield spots where Castro can be moved to utility or Cruz to the outfield.
While the Pirates need to evaluate their prospects, the lost 2020 season hurts. However, the 2021 season will have some variation of a minor league season and it's a good time to see who needs to be kept and what ceilings are for certain players heading into 2022. 2022 is a large "let the kids play" with the goal of competing in 2023 and 2024. The first set of prospects allows a valuation on nine players and then you repeat the experiment with the 2022 class (players that need added for 2023 season):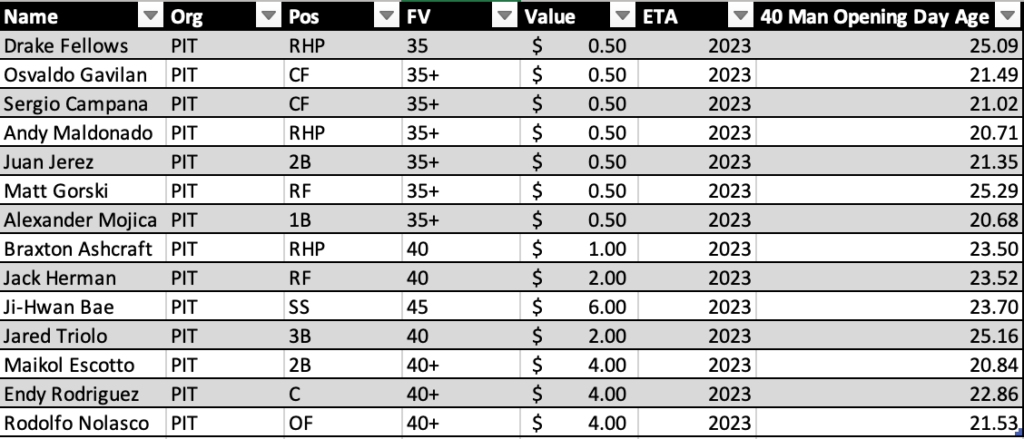 The 2022 rule five is most interesting because of the 2018 J2 class (Nolasco, Mojica, Jerez, Maldonada, Gavilan, and Campana) along with two guys just acquired in trade in Rodriguez and Escotto. The ETA is projected from Longenhagen at FanGraphs and the 2021 and 2022 seasons will help narrow this down to those who breakout and look to be players who can stick on a major league roster for the full season while others will not develop as expected or get injured. Natural attrition rates of prospects are real and you're likely only looking at a max of 4-5 additions from the 2023 rule five class.
2023 features the college drafted players (Gonzales, Garcia, and Mlodzinski) along with Priester, Malone, Siani, and Head. There will be natural attrition that occurs but the basis of 2021 and 2022 should be to continuously evaluate the prospects who need to be added for the 2023 and 2024 seasons. Additionally, 2021 and 2022 helps in terms of evaluating the talent that will be in Pittsburgh and the floor and ceilings that each player brings.
Prospects won't all work out for a variety of issues so having a deep farm system is important. Some prospects that are 40+ or better at the present moment will not pan out and will not need to get added to the 40. It appears, on the surface, that the Pirates will come to a roster crunch soon. I don't think that is the case given the arms that can still be moved and the amount of arms that project as relief pitchers. 2021 allows for movement of mid relief and fringe 40 arms to be examined with better prospects replacing for 2022. Eventually a consolidation will come – and the goal is for each prospect to hit at least their median outcome despite the improbable odds – but the 2022, 2023, and 2024 rule five classes won't require that crunch. Let 2021 and 2022 be evaluation years for players deeper in the system, those ready to contribute and those that are current contributors with 2023, 2024, and 2025 being the start of the window being opened.
Updated note (1/27/2021): Per Ethan Hullihen, Michael Burrows is a 2022 decision given that he was a 2018 high school pick and given his date of birth (November 1999) he would have been 18 on the day of signing, thus he has five years before being added to the 40-man. This changes him from this upcoming winter to the following, which allows for further evaluation. While that changes the valuation some – just a $1M difference gets subtracted from 2021 class and added to 2022 class – the potential roster crunch isn't really impacted. The Pirates have the room to add 7-10 guys based on performance this upcoming offseason with their high volume of arbitration two and three players who are trade candidates, fringe 40 arms, and those arms without of options. The decision then becomes more important in 2022 where the class is loaded with their 2018 J2 signings. Given the 2022 class and distance from MLB, Burrows seems like a lock to be added, but overall the 2021 and 2022 seasons still are going to be evaluation years for both players in Pittsburgh and throughout the system to determine the 40-man rosters when the team starts competing in 2023 and beyond.